Quilt No.762PHM - Powerhouse Museum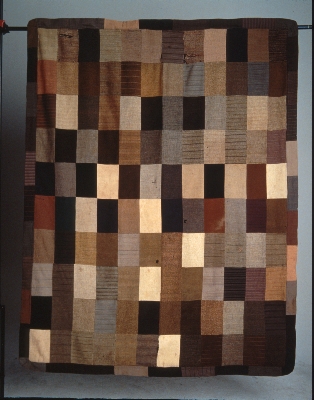 Description:
"A double-sided patchwork quilt machine-pieced from plain and patterned rectangular woollen patches, each 130 x 200mm. The fabrics came from a tailor's swatchbook of men's, and possibly women.s, suiting samples and are mainly in tonings of olive green, brown, blue and cream. The two layers are bound together with a pieced border strip that forms the outside edge. There is no filling or quilting." [PHM]
2140 x 1660mm
History:
The maker was Elizabeth Garrett , born Elizabeth Butler about 1870 and died 1946. It was made about 1910 at Box Hill Melbourne. The quilt was passed from Elizabeth Garrett to her daughter Elsie Garrett Hanna, and then to Elsie's daughter Mrs. Val Skinner of Mosman. Val Skinner gave the quilt to the Australian Costume and Textile Society and it subsequently came to the Powerhouse Museum when the ACTS collection was transferred there in 1983. It is used for research and exhibition purposes only.
Story:
"The family landed at Portland and joined the gold rush; later they moved to James Street, Box Hill, where this quilt was made and later still moved to the bush outside Melbourne. Elizabeth was one of seven girls and one boy and was the dressmaker for the family. Elizabeth was married and had three children at the time the quilt was made, around 1910. Her first daughter Elsie was born in 1893."
"In January 1986 Val Skinner, the maker's granddaughter, said that everyone in the family used the quilt when they went camping and that later on, when they could afford to buy bed covers, it went under the bed." [PHM]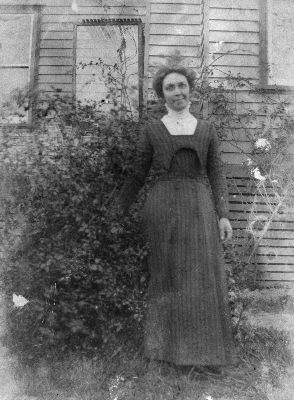 Related Quilts:

This hand pieced and hand quilted hexagon quilt is in a pattern often called 'Grandmother's Flower Garden'. The background is white and there are concentric rows of double rosettes each with a yellow centre. The colours start in the centre of the quilt with pink and then follow the rainbow. Paper templates were used. The padding is cotton (American) and the backing is cotton floral poplin.
2360 x 1730mm

Pieced squares, each square with a cross and 4 small squares in red. Crosses are in rows alternating 2 shades of blue and 2 of brown. Cream background. Now unlined but remnant blanket like material in corners. Originally had a cotton frill. Quilt was made from scraps of material used for making children's clothes.

Small quilt made from pieces of heavy weight wooollen coat material cut into strips and machined together. It is reversible. Each side is made from different materials but in similar colours of aqua, blue, green and beige. The 2 layers are quilted together with a few machined lines of straight stitching. It has a folded and machine stitched edge. There is no padding.
950 x 790mm

Patchwork quilt in crazy pattern, with pieces of silks, corded silks and velvets in prints, plaids and plains. Nearly all pieces are edged with embroidery, and many pieces have embroidered names and motifs. There are a variety of embroidery stitches. The backing is of slub cotton in a plaid pattern in yellow, grey, red and white. No padding. Quilt has a gathered edging of dark red organdy and silk. Names and dates embroidered are: Bert, Milly, Toots, Verdi, Ida, and 1893, 1895, 1894.
1550 x 1420mm

Log cabin quilt consisting of 36 blocks each 200mm square. Light and dark arrangement with a variety of small patterned cotton materials (floral, spotted, striped) and plains. The blocks are hand stitched on to fine cotton and then joined by machine. There is a 120mm double gathered frill of floral cotton with a beige background. The backing is 2 pieces of cream cotton with repeat floral and musical motifs interspersed with forget me nots.
1500 x 1500mm

Cotton quilt hand pieced and hand quilted. Eigth pointed star on a white background. 7 rows of 7 stars with a 70mm border. There is a padding or interlining. The backing is plain off white cotton twill.
2040 x 2030mm