Quilt No.277JW - Jean Winchester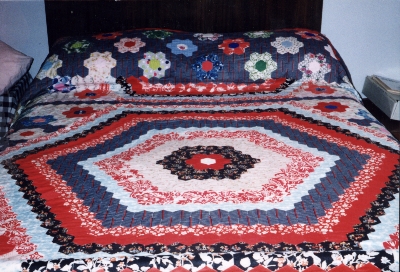 Description:
Patchwork quilt of hexagon patches with a large central group of 14 rows, then groups or 'flowers' of 6 patches placed over the rest of the quilt. The colours are red, black, white and blue, in a mixture of stripes, florals and plains. No padding. Backing is a double bed sheet. Hand sewn.
2591 x 2566mm
History:
Made by Jean Winchester at her cousin Hazel Jarmyn's needlework classes (SA) in 1960. Owned by Jean.
Story:
"I was given some black and white striped material & wondered what I could do with it. I had only then taken an interest in some kind of needlework, after our children had grown up. I used the above material, it became the main part of the quilt, with lovely pieces from friends it became a double bed quilt."
[Jean Winchester]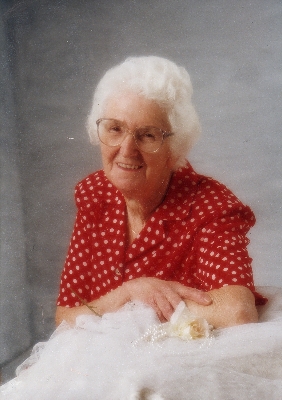 Related Quilts:

Small patchwork piece in crazy patchwork in silks, satins, and velvets. Embroidered initials 'A.N' also an embroidered crest, the date 1869 with initials 'A.W.N'. There is also decorative stitching over the joins of most pieces. It is not padded. The backing is Jacquard.
661 a 649mm

Patchwork cot quilt top made from cotton hexagon patches, featuring a centre rosette with 7 rows of patches around it forming an elongated shape, with rosettes and patches randomly placed on the sides. Quilt has a border of triangles pieced to form squares. Cotton prints with over 50 different patterns. Colours are faded, with red and brown (may be faded green) and mostly pastels. Hand sewn using whip stitch. No padding or backing.
990 x 825mm

Crazy quilt made from a lot of light wools including gabardine types. Patches are outlined in embroidery stitches and there is additional embroidery on some patches. It is worked in 3 ply wool thought to be Patonyle (early blend of nylon and wool). The backing is a floral print mainly black with a cream flowers, brought to the front as a binding. Occasional stitches holding front to back by way of quilting. There is no padding.
1600 x 2100mm

Patchwork quilt of hexagons in 'Grandmother's Flower Garden' pattern, consisting of a dark centre hexagon, a row of light patches, then a second row of dark patches in the same colour as the centre. Each group of patches or 'flower' is joined by white paths. Colours are predominantly red, blue, brown and pale or faded colours. Some fading; some dark colour fabrics have deteriorated. Backing. Hand sewn. Border of quilt and backing sewn edge to edge.
2236 x 1829mm

Quilt in traditional design called 'Seven Sisters'. Seven stars, each of six diamonds are set against a cream background, surrounded by bright pink triangles. Hand pieced and hand quilted. Padding is cotton, and backing is cream calico. 2100 x 1850 mm.

Hand pieced patchwork quilt with blue and black checkerboard central frame surrounded by 4 borders of irregular sized rectangles. Mainly dress materials with possibly some furnishing material. It is not quilted or tied. The backing is a large rectangular red check table cloth with 3 borders of irregular shaped pieces down 2 sides and 1 border down 2 sides. There is no padding.
1860 x 1730mm