Quilt No.277JW - Jean Winchester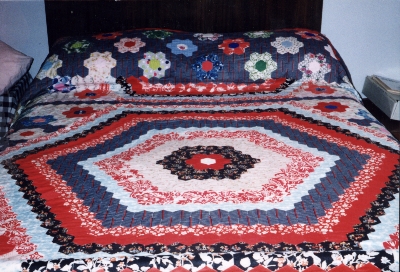 Description:
Patchwork quilt of hexagon patches with a large central group of 14 rows, then groups or 'flowers' of 6 patches placed over the rest of the quilt. The colours are red, black, white and blue, in a mixture of stripes, florals and plains. No padding. Backing is a double bed sheet. Hand sewn.
2591 x 2566mm
History:
Made by Jean Winchester at her cousin Hazel Jarmyn's needlework classes (SA) in 1960. Owned by Jean.
Story:
"I was given some black and white striped material & wondered what I could do with it. I had only then taken an interest in some kind of needlework, after our children had grown up. I used the above material, it became the main part of the quilt, with lovely pieces from friends it became a double bed quilt."
[Jean Winchester]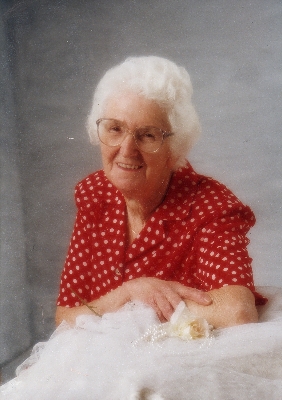 Related Quilts:

Grandmother's Flower Garden quilt. Hexagons are from cotton and polyester material mostly from 'Reverse Garbage' Melbourne. Hand pieced by Rita Fiddian, the owner. Hand quilted. The padding is wool and the backing cotton.
3049 x 2109mm

Patchwork quilt in Log Cabin pattern made from silks, velvet, cottons and taffetas, in prints and plain, around a centre squares of black velvet. Colours are, in the dark sections, blues, greens, browns, yellow and pinks. The base of the blocks is blue and white ticking. The padding is probably cotton. Backing is of green cotton. There is an attached frill on all sides of green cotton, faded to dull light brown.
1630 x 1350mm

Quilt made with a rectangular centre panel of cotton fabric printed with red poppies and black flowers in a japanese style. The panel is surrounded by a wide black satin border. The backing is of black cotton, covering a previous backing of green floral cotton fabric. The padding is feathers.
1700 x 1370mm

Pieced repeat block, in what the owner calls 'Our Village Green' pattern. Wide variety of patterned and plain materials. Finely quilted. Padding is cotton and the backing is white calico. 2180 x 1890 mm.

Frame quilt pieced from square, rectangular and triangular pieces from plain and patterned cotton. The central motif of the rooster is appliqued in red cotton on white background with a border of red triangles. There is a white cotton backing.
2000 x 1925mm

This quilt consists of rows of pieced blocks approximately 280mm square sewn directly on to a foundation square. The design is really a version of 'log cabin' set on the diagonal. The backing squares are made from flour bags including a number stamped in blue ink "The Defiance Milling Company��..Toowoomba NET 3 lbs". Another is stamped in green ink "Parsons Rolled Oats". Two short sides and one long side of the quilt are bound in apricot coloured cotton.
1960 x 1700mm