Quilt No.921MP - Maria Patounas
Description:
Wholecloth quilt with the top a patterned material of red and yellow carnations. The backing is red and there is a wide red border. The quilting pattern is mainly parallel lines. The padding is cotton grown by Maria's family on the island of Rhodes.
2040 x 1670mm
History:
The quilt was made c.1932 by a ' paplomatas' (quiltmaker) from Lindos on the Greek island of Rhodes. It was owned by Maria (Antonarakis) Stergakis and now belongs to her daughter Maria Patounas. It was used when the children were young but is not used now.
Story:
"Two Quilts from Lindos
Maria Patounas owns two 'paplomata' (quilts) - one was part of her mother's 'prika' (dowry), and the other, interestingly, was part of her father's prika! The wedding traditions of the Greek islands of Rhodes and Kastellorizon both include the groom sometimes bringing a prika to the marriage. It could include a 'kilimi' (woven rug), blankets and other items and a paploma. Often the groom would bring all this in his own 'baoulo' (chest or trunk). When the house was decorated in preparation for the wedding, there would be an area designated 'yia ton gambro' - for the groom.
The cotton used in these quilts was grown on Rhodes. Some of it came from the family's own fields in the village of Laerma near Lindos, well known for its ancient ruins. Growing up in Laerma, Maria remembers her extended family being almost entirely self sufficient - they owned sheep and bee-hives, grew wheat, olives, figs, pears, lentils and chick-peas. They made their own pasta, and baked their bread in the traditional 'fourno' (oven) situated outside the house. Maria recalls that 'sometimes we bought a bit of rice!
They were lovely days - that's why when we go to Greece, I love being in my village'.
Greece was ravaged by WWII and the civil war, and in the difficult years immediately following, huge numbers of Greeks migrated. With the two quilts in her luggage, seventeen year old Maria arrived in Brisbane to her fiance Panayioti, who had come two years earlier. Ten years later, her parents Despina and George Stergakis also took the difficult decision to migrate even though it was late in their life. They wanted to be near their children: Maria, Ioannis, Manolis and Stavroula, who eventually returned to live in Crete.
Maria and Panagioti married in 1962 in Brisbane's Greek Orthodox Church of St George, and settled into establishing themselves in their new country. They have three children - Paraskevi, George, and Anna."
[Written by Lula Saunders, adapted from interview 5/9/00 for the National Quilt Register]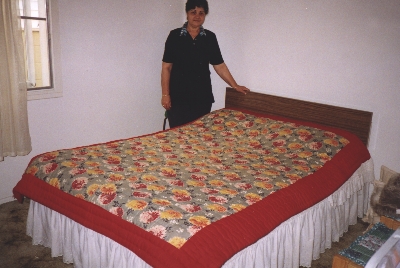 Related Quilts:

Wholecloth pram quilt with a top of pink cotton sateen, and the reverse is a more finely woven, ivory, fabric. All over quilting design as main feature, with stylised hearts, leaves and cross hatching. The padding is cotton batting. 870 x 660 mm.

Hand stitched, cotton, appliquéd, quilt in a flower pattern on a plain background. Colours are shades of green, apricot and browns. This quilt was known as a 'Bride's Quilt'. Padding is thought to be layers of white fabric raised almost like a wadding. The backing is cotton material. 2470 x 2020 mm.

Wholecloth cover in synthetic rayon. Centre plain, drop slightly gathered, edging border is large saw tooth appliqued pieces in flannelette, striped seersucker, crepe de chine. Materials typical of the 30s through to the 50s. The appliqued triangles are chain stitched in yellow thread which also anchors them to the backing.
2450 x 1940mm

Wholecloth quilt made of royal blue satin, squares around a central panel. Seam lines are covered with a faggoting stitch. All names are embroidered in satin stitch, the central motif is hand painted. The border is quilted with a repeat scroll ing pattern in hellow thread, and edges are trimmed with a fringe of small pom-poms in burgundy, gold, blue and yellow, the colours mixed in each pom-pom. Quilt is backed with yellow satin cotton. Centre has embroidered: "Lancefield/ Presbyterian/ Sale of Gifts/ February, 1896'.
1880 x 1330mm

Wholecloth quilt made from deep cherry red satin with a backing of red cotton. The padding is cotton wadding. It is hand quilted and the pattern is a central motif of a large diamond with diamond fill. Each corner has a pattern of curved lines and the quilt border is created by four parallel lines.
2070 x 2000mm

Wholecloth quilt with top of red sateen. Hnad quilted with a large central rosette in a 'gothic' border then square on point border and outer border with rosettes in rectangular corner panel. The backing is cotton sateen with printed floral bouquets. The thick padding is cotton. This type of quilt is called 'cuttunina' in the Sicilian dialect which means 'has cotton inside'.
2360 x 2310mm