Quilt No.669JA - Julie Atkinson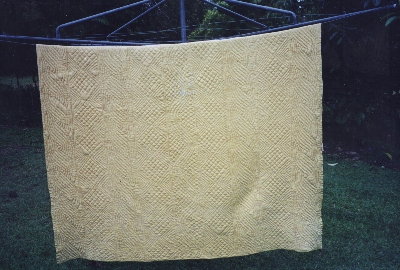 Description:
Reversible wholecloth cotton quilt with elaborate hand quilting. One side is cream patterned material and the other plain pale yellow. It is padded but the type of padding is unknown.
2450 x 2000mm
History:
This is 1 of 2 quilts brought to Australia from England by Julie Atkinson's grand parents when they went back for a trip in 1956. " I don't think they were new at that time. They were possibly made by a group of ladies who met of an evening to do the quilting. I met the last of my great aunts in South Shields in 1967, Meg Thwaites. She would have been in her 80s then."
[Julie Atkinson 18.11.98]
Related Quilts:

Wholecloth pram quilt with a top of pink cotton sateen, and the reverse is a more finely woven, ivory, fabric. All over quilting design as main feature, with stylised hearts, leaves and cross hatching. The padding is cotton batting. 870 x 660 mm.

Hand stitched, cotton, appliquéd, quilt in a flower pattern on a plain background. Colours are shades of green, apricot and browns. This quilt was known as a 'Bride's Quilt'. Padding is thought to be layers of white fabric raised almost like a wadding. The backing is cotton material. 2470 x 2020 mm.

"A quilt or coverlet of natural cotton sheeting with appliqueed motifs cut from a variety of crimson cotton damask. The quilt is hand sewn and nearly square and has a 12 cm border made from the same crimson damasks. The applique motifs consist of a range of hexagons, rosettes, flowers, hearts and stars that radiate outwards from a large centrally placed star shape. All are the same shade of crimson red which suggests they were dyed in the same dye pot. The fabrics are now quite thin and soft which suggests that the quilt, or the fabric it was made from, was well used." [PHM]
1960 x 1950mm

Wholecloth quilt, the cover made of blue and red paisley cotton cretonne, and filled with feathers. The cover is reversible. The machine quilting is a simple pattern of 2 diamonds, one within the other, in the centre, with 3 rows of stitching around the edge of the quilt, forming a wide border.
2033 x 1474mm

Wholecloth quilt of golden brown cotton sateen, the backing of a lighter yellow cotton sateen. Hand quilted with an allover repeatingr pattern of a cross within a square. The border is quilted with 4 parallel rows of stitching at the sides, and 5 at the top and bottom. Padding is cotton wadding. 1920 x 1440 mm.
1920 x 1440mm

Rectangular cot quilt of green floral cretonne with pleated frill. Machine made. The backing is the same material. It is tied not quilted. The padding is old woollen jumpers.
1050 x 610mm