Quilt No.935HS - Helen Sparkman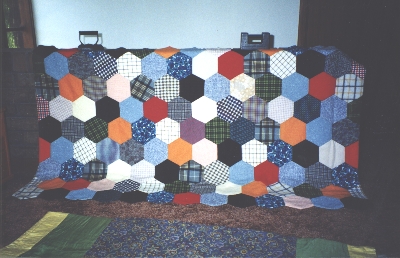 Description:
Hexagon quilt made from dressmaking scraps, nearly all woollen. The hexagons measure 150mm. It is hand stitched.
1170 x 1100mm
History:
This quilt was made by Helen Sparkman (born 1949) in the late 1960s. It was her first quilt and is still owned by her. Helen is the great grand- daughter of Matilda Pitt and great neice of Clara May Pitt whose quilts have been registered.
Story:
Helen remarked that she thought quilting and hexagons were synonymous and that she naturally followed her great aunt Clara and chose hexagons as her first project.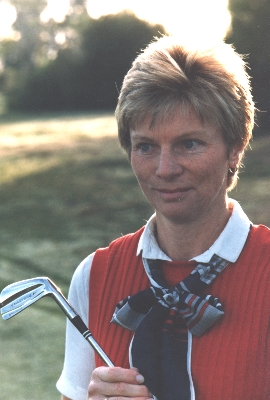 Related Quilts:

Patchwork quilt made from brightly coloured printed cotton fabrics in hexagon patches hand sewn together in rosettes, and stitched by machine onto a border of green moire taffeta. No padding. Backing is green cotton satin curtain lining. There is a matching pillow sham.
2591 x 2540mm

Quilt with hexagons forming lozenge or honeycomb pattern. Predominantly greens and pinks in brocatelle (rayon brocade). All hand stitched. The backing is lime green rayon. The padding is probably dacron.
1800 x 1630mm

Cotton quilt entirely of hesagons. Some are formed into rostttes or flowers and have a print border of 12 hexagons, an inner circle of 6 hexagons in a plain colour and a yellow hexagon centre. The padding is cotton wool and the backing plain off white cotton.
2210 x 1430mm

Crazy patchwork quilt made from silk, cotton and velvet in pastels and rich dark colours with a wide border of dark burgundy silk velvet. Decorative embroidery stitches including straight, herringbone and feather edge each piece. Most pieces have embroidered motifs including crown, flowers, horseshoe and Australian motifs of wattle and emu. Date '1891' worked in cross stitch on one piece. The padding is wool and the backing dark red satin and these are joined by diagonal machine stitching in yellow thread.
1750 x 1100mm

Patchwork quilt or table covering dark and light silks in bright colours, pieced from diamond shapes into stars with black patches between the stars. Plain and patterned silks are used for the stars. Border is made from a single row of Tumbling Blocks in plain silks with an edging on each side of truncated black diamonds on blue on the inside, orange on the outer edge. There is a star pieced of diamonds in each corner. Hand sewn.
1830 x 1800mm

Silk quilt in diamonds with hexagon border. "Toward the edge of the quilt, the design of diamonds made into blocks offers an optical illusion, where the diamonds can be seen to form stars. The border is made up of these stars and half-diamonds, and the entire quilt is trimmed with lace and triangular flaps made of tiny hexagons." [extract unidentified magazine article supplied by quilt owner.]
The backing is maroon cotton. 1600 x 1600 mm.