Quilt No.935HS - Helen Sparkman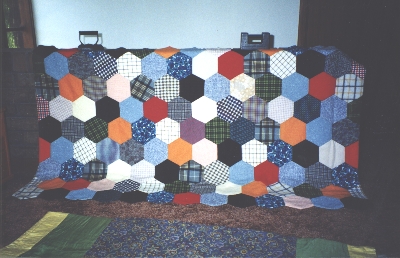 Description:
Hexagon quilt made from dressmaking scraps, nearly all woollen. The hexagons measure 150mm. It is hand stitched.
1170 x 1100mm
History:
This quilt was made by Helen Sparkman (born 1949) in the late 1960s. It was her first quilt and is still owned by her. Helen is the great grand- daughter of Matilda Pitt and great neice of Clara May Pitt whose quilts have been registered.
Story:
Helen remarked that she thought quilting and hexagons were synonymous and that she naturally followed her great aunt Clara and chose hexagons as her first project.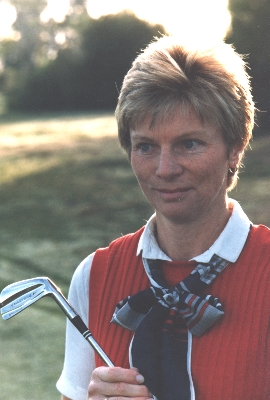 Related Quilts:

Patchwork quilt made from pure wool suiting samples in shades of navy blue and brown. Quilt is constructed in 11 rows containing 11 pieces. Each piece is 14cm x 9cm. No padding. Backing is of mauve cotton with a floral pattern of closely spaces white/pale mauve flowers.
1480 x 900mm

Hexagon quilt constructed over papers; all seams oversewn with featherstitch embroidery. Materials are vyella and clydella scraps from childhood dresses of the maker's first four children, augmented with scraps from a dressmaker and a book of samples. There is no padding; backing is plain, pale blue, brushed cotton.
2200 x 1720 mm.

Patchwork cot or pram quilt made of diamond patches in the Tumbling Block pattern. Patches are made from cotton, corduroy and velvet, with red, black, teal blue, green, brown and cream predominating. No padding. Backing is of green wool and the quilt is bound with dark red crushed velvet.
780 x 560mm

Patchwork quilt made for a child. All cotton with cotton padding. White blocks have embroidery depicting different nursery rhymes eg Mary, Mary, Quite Contrary ; Old Mother Goose. These blocks are separated by rectangular strips of teal cotton. The quilt is hand stitched and heavily quilted.
1677 x 1271mm

Patchwork quilt made from silk and challis and velvet hexagons set to form diamond shapes. The centre shape has 8 hexagons surrounded by a row of 16 hexagons. The outer border of the quilt is 2 rows of 'Tumbling Blocks' set amongst a variety of black silk and satin patches. There is a wide fringe in red, green, blue and yellow. There is no padding and the backing is a recent addition in red cotton, synthetis mix.
1770 x 1740mm

Cotton log cabin double bed quilt. Each square has 52 pieces (i.e. 13 pieces x 4 to make a square). There are 192 squares so a total of 10.092 pieces. There is probably no padding. The backing is calico with a floral pattern done in running stitch.
2200 x 2200mm