HMS Buffalo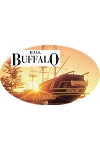 We are a total replica of the HMS Buffalo ship, containing many items pertaining to the voyage that brought the first settlers to Australia.
Hours:
Monday - Sunday 12noon - 5pm.
Admission:
$2.50 Adult, $1.50 Child, $1.50 Pensioner, $7.00 family
Collection:
Maritime Objects. History of voyage of HMS Buffalo, convict ship 1836.