South Australian Military Vehicle Museum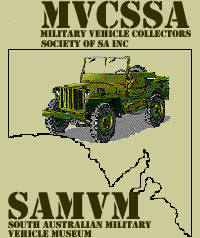 The Military Vehicle Collectors Society of South Australia Inc was formed in 1976, and opened their Museum in 1993. The Society is dedicated to the preservation of Australian military vehicles, not as a para-military group, but as one preserving a part of the military aspect of Australia's heritage. There is an emphasis on South Australian designed, manufactured or built vehicles thereby highlighting those State heritage aspects for cultural, research and education purposes. The Museum displays approximately 50 vehicles, many of which are used in parades, including the ANZAC Day parade, official Services functions, pageants and shows. The Museum also contains numerouse dioramas depicting various theatres of war, display cabinets exhibiting military memorabilia; a large collection of military communications equipment and a display dedicated to the Austlrian wartime spy, Nancy Wake.
Address:
252 Commercial Rd, Port Adelaide, SA
Hours:
Sunday and Public Holidays 9.30am - 4.30pm.
Admission:
Adults $6.00, Child (5-14) $2.00, Family (2+4)$15.00, Concession $4.00
Collection:
Included in the collection and of particular interest are several vehicles that were manufactured in South Australia and form part of the wartime heritage of this state.
- A Bren Gun Carrier, one of approximately 2000 built at Islington.
- A Wiles Mobile Steam Cooker
- A C15 Chevrolet Wireless Van with the chassis and cab built by GMH in Canada in 1943, and the body built by GMH at Woodville in 1944.
- A railway line mounted Chevrolet 'reconnaissance car', kindly on loan Pork Dock Railway Museum, that travelled the Trans-Australia Railway line during WWII in connection with six prisoner of war camps located between Cook and Rawlinna.
- A rare Armoured Car assembled at Islington in 1939, this vehicle being the only example of 18 left in the world.