Tramway Museum of St Kilda
Electric vehicles provided the main public transport in Adelaide in the five decades from 1909. The Museum has 19 preserved electric trams, which it operates, and also 4 trolley buses, a horse car and a 1950s diesel bus. Street furniture, technical equipment, photographs and memorabilia are featured in the interpretive Display Gallery. Admission includes unlimited rides on the trams operating each open day. The trams run on a 2 kilometre track from the museum to the beach.
Address:
St Kilda Road, St Kilda, SA
Hours:
1.00pm-5.00pm Sundays and Public Holidays. Also Wednesdays during S.A short school holidays.
Admission:
Adults $10.00, Concession $6.00 (unlimited rides)
Facilities:
Large free carpark, cafeteria, picnic/barbeque area, large covered area for inclement weather, book and souvenir shop, wheelchair access
Items
Tram
Adelaide H Type 360
Tram
Toastrack' Tram No. 42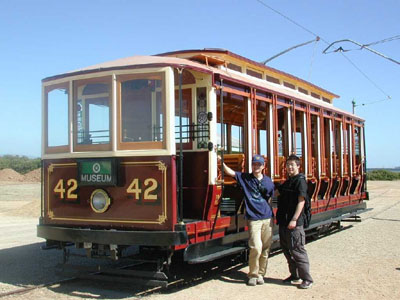 Creator:
Duncan and Fraser
Description:
This car was built as a "Single truck, straight sill, open cross-bench with reversible seating" (later B Type) in 1909 by Duncan and Fraser. The open layout proved generally unpopular and in 1917 the car was converted to A2 Type, a form similar to A Type No 1. It was then transferred to the newly electrified Port Adelaide tramway system.
Tram
Electric Tram No. 1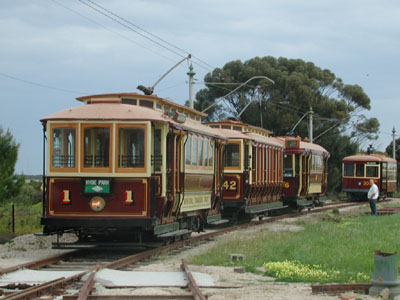 Creator:
Duncan and Fraser
Description:
This car was built by the then well known Adelaide carriage builder Duncan and Fraser in 1908. It was the first car used on the newly electrified Adelaide tramway system when it made a trial run along North Terrace on 30th November 1908.