Whyalla Maritime Museum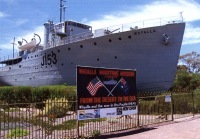 The Whyalla Maritime Museum consists of the former HMAS Whyalla, museum building and garden. The museum presents the usual history of the four World War Two corvettes built in Whyalla, BHP shipbuilding industry, natural history and maritime heritage of the upper Spencer Gulf.
Address:
Lincoln Highway, Whyalla, SA
Admission:
Adults $6050, children $3.30, concession $5.50, family $16.50
Facilities:
Wheelchair access to museum building and gardens, souvenirs, tourist information at entrance, free BBQ, guided tours over the centrepiece
Collection:
Maritime and naval history, WWII memorabilia, industrial history and marine biology. Around 2,000 objects. 650 tonne WWII warship, 13 tonne fishing vessel, AA Bofor gun and shark cage.
Items
Ship
The Whyalla
Creator:
Whyalla Shipyard
Description:
Bathurst class minesweeper corvette ship, 650 tonne restored former warship, land-locked, 2m off the ground.
Model
Santos Fractionation Plant and Jetty Head, Port Bonython
Description:
Engineer's scale model, 14 metre long model of plant, constructed in USA in early 1970s for Santos.
Journals
Matthew Flinders Journals
Creator:
Matthew Flinders
Description:
First edition copies of the journals in temperature controlled cases.