Clare and Gilbert Valleys Council Library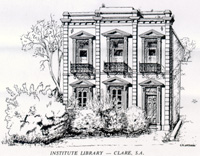 The library service seeks to provide a quality service which meets the community's current and ongoing information, education, recreation and cultural needs. The library service is a free community service which is jointly funded by the Clare and Gilbert Valleys Council and the State Government of South Australia.
Address:
33 Old North Road, Clare, SA
Collection:
The collection includes approximately 18000 monographs, journals and audio/visual material. Collection strengths include Local History and Viticulture.