Yesteryear Costume Gallery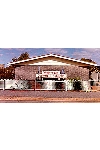 A specially built building, with air conditioning and special lighting with a display area, office area and store room
Address:
50 Second Street, Orroroo, SA
Hours:
10am-5pm most days or by appointment.
Admission:
Adults $3, concession $2.50, senior students $1.50, families $7.00, groups $2.50 per person.
Facilities:
Guided tours, toilets, disabled access.
Collection:
The museum holds collections and displays of period costume and accessories dating 1870s to 1980s - All authentic there is a collection of old books including The Girls Own Annual, The Leisure Hour, fashion Journals with original paper patterns 1906 to 1965, nearly complete and many other useful resource books for students.