Jamestown National Trust Museum
The Museum is in the former Railway Station, built in 1885, and adjacent goods shed; it was opened in 1971 the centenary year of Jamestown and district. Items in the Museum Collection have been donated by the local people & they all recall a past way of life. The display highlights people and events unique to Jamestown local people expect the museum to be the custodians of archival items donated by them, so the collection has changed as we have noticed an increasing interest in local and family history.
Address:
Mannanarie Road, Jamestown, SA
Hours:
2pm-4pm Sun, 10am-4pm Mon to Sat, closest Wednesday.
Admission:
Adults $2.50, Children 50c
Facilities:
Wheelchair access to station building and goods shed per ramp, small library, archives and local family history records
Collection:
The Museum has a diverse collection of household items and other things connected to church, school, hospital, sport, annual show, forest industry, business activities recreation, farming, railways, war service, a collection of photos [over 1000], family history books and local community archival records.
Items
Artificial respirator
Both Iron Lung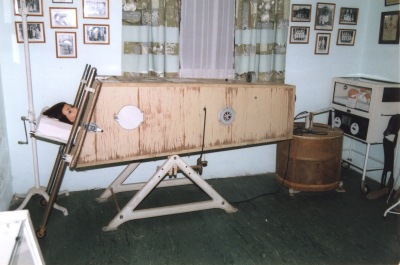 Creator:
Edward Thomas Both OBE
Description:
Iron frame with plywood case. Metal plate attached "Both cabinet respirator, presented by the Viscount Nuffield. Serial No BR 911. Edward Thomas Both born c1900 Caltowie, attended Jamestown High School. Joined Adelaide University Physics dept. and did Pioneering work with electronic medical apparatus. In 1937 Polio epidemic in South Australia, in Partnership with his brother he developed this Iron Lung, it was one-twentieth of the cost of models imported from America.
Railway carriage
SA Railway Carriage No. 229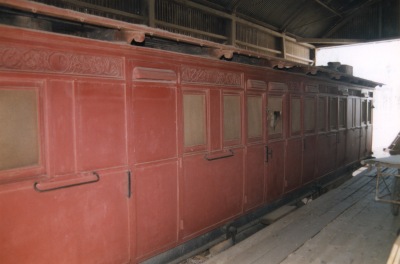 Creator:
Adelaide Locomotive Works
Description:
Broad gauge passenger car built 1882. In 1913 converted to a hospital car and in 1951 to an employees sleeping van, in use at Booleroo Centre before being shifted to the Museum.
Trophy
Elliott Cup also known as Thyer Trophy
Creator:
Samuel Hawgood and David Calver, England 1858/59; reworked Wendts Jewellers South Australia mid 1880s
Description:
Silver trophy, four horses prancing from sides, with emus etc engraved; also engraved are names of winners - first for horse racing, then for wool, then for wheat growing.
Crop stripper
Carter Stripper
Creator:
Thomas Carter, Blacksmith and Machinery Manufacturer, Jamestown, SA
Description:
Stripper with three wheels, iron tyres, iron frame, timber and galvanised iron body. Used by Pioneer McLeod family, farmers Belawae North SA. Purchased at their sale c1969. Restored by Jamestown Rural Youth Club for Jamestown Centenary 1971 and given to the local museum.