Stansbury Museum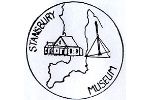 The Museum is housed in the first school building, 1878-1908. The Main room shows the history of Stansbury in detail, other rooms: doll collection, clothes, hardware, bedroom, sitting room and dining room.
Address:
North Terrace, Stansbury, SA
Admission:
Adults $2, Children (5-28) 50c, Family $5
Facilities:
Limited wheelchair access, toilet, education brochures, group concessions, parking facility
Collection:
2,000 items. A farm implement and hardware shed are complemented by kitchen and laundry collections as well as RSL and bottle collecitons.
Items
Model
Lime Kiln
Description:
Model of kiln including all tools, stone and lime walls, cardboard roof.
Bullock yoke
Description:
She-oak timber strut with U shape metal to attach to beast necks.
Oyster dredge
Creator:
Geo Martin, Blacksmith
Description:
Triangular metal frame with mesh ring behind.
Nightgown
Description:
White calico completely hand sewn with pintucks and lace.
Photograph
Mail Day at Jetty
Description:
Enlargement of original photograph, shows people and carts at jetty site.