Clunes Museum (William Barkell Memorial Arts & Historic Centre Inc)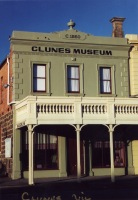 The Clunes Museum is an historic building (1860) in the main street of Clunes which houses a collection of memorabilia from Victoria's first gold town. Displays include agricultural, gold, coins and cultural themes. Reception has a shop where local crafts, souvenirs and local history books are on sale. A research section offers a wide range of records dating back to the early 1860's. The Clunes Museum is run by volunteers. The Clunes Museum is accredited by MAP.
Address:
36 Fraser Street, Clunes, VIC
Hours:
10am-4.30pm Sat, 11am-4.30pm Sun, school and public holidays, closed Mondays. Open by appointment.
Admission:
Adults $2.50, children 50c, families $5.00
Facilities:
Toilets, car and bus parking, picnic area, refreshments, sales outlet, guided tours by appointment, information brochure
Collection:
The major strengths of the collection of 2,500 objects are photographs and items pertaining to gold mining, agriculture, industry, factories and commerce, education, local government, religion, domestic items, WWI memorabilia and local community archival records.
Items
Naval Gun
Naval Gun from HMVS "Nelson"
Description:
The Navel Gun is from the training ship, ex line of battleship HMVS Nelson, launched in 1814, but not commissioned by the Royal Navy. Armament was originally 120 guns, reduced to 46 in 1860. Nelson was loaned to the Victorian Naval forces and used as a training ship. When the Nelson was sold in 1898, the guns were offered for sale to councils, the Borough of Clunes purchased the Navel Gun.
Lithograph
Lithograph of the Port Phillips Mine Works and Battery
Description:
The Lithograph depicts the works and battery of the famous Port Phillips Mine. The mine, the forth largest in Victoria was established on the site of Victoria's first goldfield. The Port Phillip Mine was the most adorned with mining technology in the southern hemisphere. A model of the mine is in the Scienceworks Museum in Melbourne.
Scales
Dayton Banch Scales
Creator:
The computing scale co, Dayton, Ohio, USA, Patented 1913
Description:
The scales were used in a great butchers shop for many years, though changes of ownership until the introduction of the metric system of weights and currency made them obsolete.