Latrobe Regional Gallery

The Latrobe Regional Gallery is Eastern Victoria's premier art gallery. Following an extensive refurbishment, the gallery reopened to the public in June 2003. Seven gallery spaces and a sculpture courtyard showcase the gallery's collection, curated exhibitions and touring exhibitions.
Address:
138 Commercial Road, Morwell, VIC
Hours:
Tuesday - Friday 10.00am - 5.00pm, Saturday & Sunday 11.00am - 4.00pm.
Admission:
Free. Admission charges apply to special travelling exhibitions.
Facilities:
Toilets, car and bus parking, sales outlet, guided tours, research facilities, room for hire, community involvement, special membership, magazine/newsletter, education, outreach, touring exhibitions
Collection:
Broadly based on Contemporary Australian art post 1971 to the present. There are some historical works related to the Gippsland region and an Asian art collection. Media categories include, ceramics, glass, painting, sculpture and works on paper.
Items
Sculpture
Hawaiian Sausages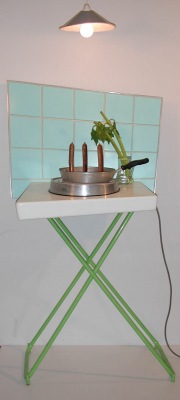 Description:
Colin Suggett places tongue firmly in cheek when he responds to the consumerism of contemporary living. The use of humour, social comment, contemporary materials and technology has always identified Colin Suggett's sculpture as challenging and up to date. This combination must rate Suggett as a pioneer and leading exponent of contemporary sculpture.
Glass
Squid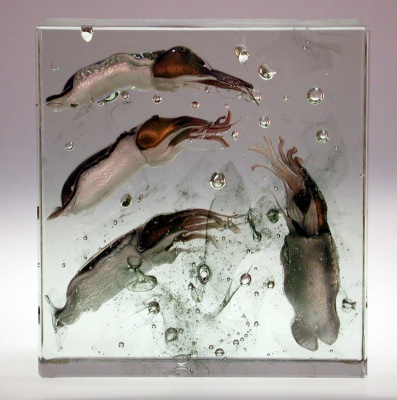 Description:
Alfredo Barbini is recognised internationally as a master glass artist from the island of Murano in Venice Italy. Barbini developed the immersion technique for glass media. The squid were created first and placed in an oven, kept at an optimum temperature while a slab of glass was produced. The squid were then layered on the slab and further layers of glass gathered over the top. The resulting rough block was then ground back to reveal the floating squid inside.
Glass Float
Grey Float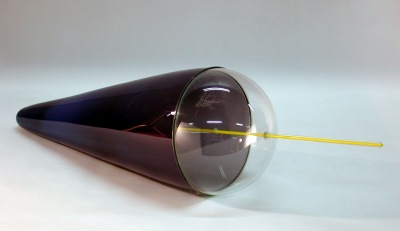 Description:
Nick Mount was a student at the Gippsland School of Art in the early 1970's when American Glass blower Richard Marquis visited the school to demonstrate blown glass. Subsequent visits to Pilchuck studios in America and then Murano in Venice, Italy, inspired Mount to establish Australia's first private hot glass studio. Mount collaborated with fellow student Tony Hanning who sandblasted images into the glass. Mount's reputation spread and he became a mentor for younger students from the School of Art, such as Brian Hirst and Robert Wynn, who have established studios and have gained international reputations as glass artists.
Item Id Number:
V.Lat1991.07a-f
Budgeree, Churchill, Venice, Italy
Mixed Media Painting
Gippsland Hills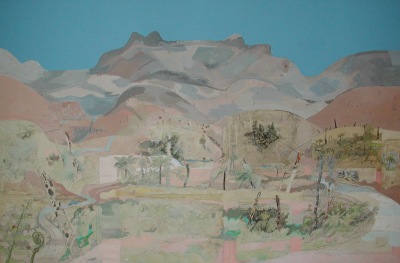 Description:
John Wolseley arrived in Australia from England 1976 and took up a teaching position at the Gippsland School of Art, Churchill, Victoria. Wolseley explored the Strelecki Ranges in his camper van, drawing and documenting details of these journeys. "Gippsland Hills" is constructed from these drawings and watercolours and traces the artist's journey from Turtons Creek on the 25th of November to Budgeree, arriving on the 2nd December 1977. "Gippsland Hills" highlights the impact of forestry practices on the native flora and fauna of the area.
Item Id Number:
VLAT 1978.25
Watercolour Painting
The Works, Yallourn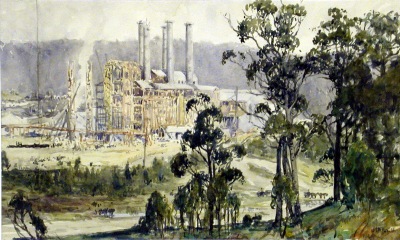 Description:
Jessie Traill had an interest in monumental engineering projects such as the Sydney Harbour Bridge. In 1924 the construction of Yallourn Power station in the Latrobe Valley was one of the most modern industrial projects of the time. This original watercolour was executed by Traill while on an excursion to Yallourn, Latrobe Valley and East Gippsland in 1924. On her return to Melbourne, Traill completed a series of etchings including "Meccano House" and "Trimming the Boiler" both in the LRG Collection and "Big Building Yallourn" in the collection of the National Gallery of Australia.
Item Id Number:
VLAT 1988.1
Latrobe Valley, Gippsland