Nepean Historical Society Museum
Housed in the Mechanics' Institute building, Sorrento, a limestone building classified by the National Trust. The Museum contains artefacts, Aboriginal relics, photographs and documents, models, nineteenth century fashions and household equipment, examples of early technology, shipwreck relics and memorabilia from pioneering families and the great George Coppin. The museum has received accreditation from Museums Australia.
Address:
827 Melbourne Road, Sorrento, VIC
Hours:
1.30pm - 4.30pm Saturday, Sunday, Public and school holidays (except Good Friday and Christmas Day). Groups by arrangement.
Admission:
Adults $3, Students $2, Children free if accompanied by an adult
Facilities:
Car and bus parking, toilets, picnic area, wheelchair access, sales outlet, guided tours, reference library, research facilities, publications, information brochures, newsletter, education, outreach, touring exhibitions.
Collection:
Approximately 4000 items some 2000 of which are photographs. The collection covers the history of the Parish of Nepean, Shire of Mornington Peninsula, ie. Rye, Sorrento and Portsea areas and comprises domestic items, costumes, personal items, models, maritime history, military history, paintings, archives.
Items
Model
Model Steam Tram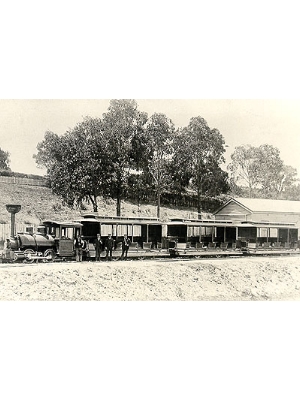 Creator:
R. Campbell and N. Neale
Description:
Large model of steam train engine and one carriage. N.B. The accompanying photograph shows the original steam train.
Date:
1980's (date of model)
Item Id Number:
1608 - model 1194
The steam tram carried passengers from the bay steamers to the back beach at Sorrento C. 1890-1920
Cannon
Cannon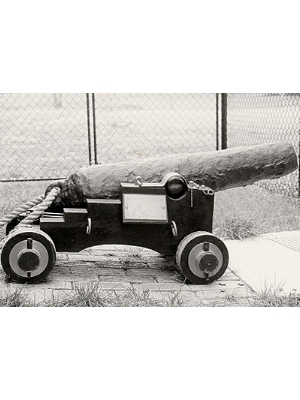 Description:
Iron Cannon on wooden wheeled base
From wreck of "Craigburn" 1891. This ship sank off the beach west of Sorrento.
Barrel
Wooden Barrel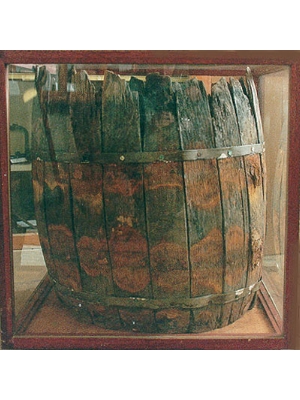 Description:
Wooden barrel with metal bands on inside
One of a number of barrels sunk in the sand above high water mark to collect "fresh", or at least drinkable, water at site of 1803 settlement under Lt.Col. David Collins at Sullivan Bay near Sorrento.
Costume
Ball Gown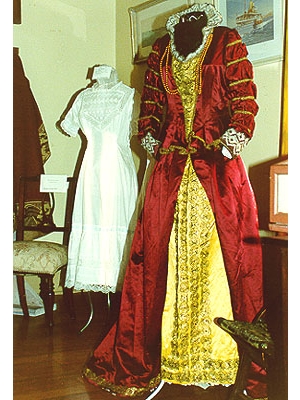 Description:
Elizabethan style gown worn by wife of Mayor McIlwraith of Melbourne 1873-4 at Mayoral Ball
Model
Model Lime Kiln
Description:
Large model in glass case illustrates the method of lime burning, one of the main industries in the Point Nepean area.
This is an important teaching tool for school groups, etc, as the cut away model shows clearly the process of lime burning.