Performing Arts Museum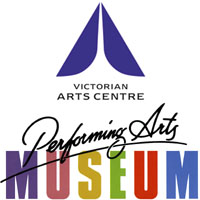 The Performing Arts Museum of the Victorian Arts Centre exists to preserve, manage and make accessible Australia's performing arts history and traditions. The Museum was founded in 1977 and since that time has worked closely with the performing arts community to build a unique collection of material which tells the story of the performing arts in Australia.
Address:
Victorian Arts Centre, 100 St Kilda Road, Melbourne, VIC
Hours:
Exhibitions 10am-11pm weekdays, 11-5pm Sundays; Reseach Centre by appointment
Admission:
Exhibitions free; Research Service on request
Collection:
The Performing Arts Museum collection contains costumes and accessories, stage designs, props, photographs, posters, programmes and personal memorabilia relating to many of Australia's foremost companies and performers including Dame Nellie Melba, Barry Humphries, the Australian Ballet and the Bell Shakespeare Company.
Items
Make-up case
Split Enz make-up case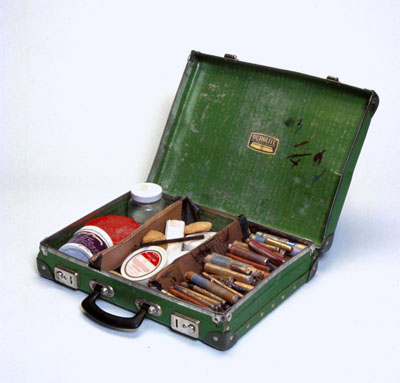 Description:
This converted school-case was created by Noel Crombie when he was a member of the rock band "Split Enz".
Item Id Number:
1984.004.293
Puppet
Ossie Ostrich
Description:
Ossie Ostrich (and manipulator Ernie Carroll) were key members of the cast of the television variety show "Hey Hey It's Saturday" hosted by Darryl Somers from the early 1970s until 1994.
Item Id Number:
1998.049.001
Costume
The Queen of Shemakhan
Creator:
Natalia Gontcharova & Madame Karinska
Description:
This costume was worn by ballerina Irina Baronova as the Quen of Shemakhan in the ballet "Le Coq d'Or". Baronova visited Australia in 1938-9 as a member of the Colonel de Basil Covent Garden Russian Ballet
Item Id Number:
1996.014.004
Glasses/spectacles
Dame Edna glasses
Description:
These glasses are typical of the style adopted and made famous by Dame Edna Everage during the 1960s and 1970s.
Item Id Number:
1981.202.238