Port Melbourne Historical and Preservation Society
The Port Melbourne Historical and Preservation Society holds a local history collection, housed in the former Port Melbourne Town Hall (1882). As this area drastically alters, physically, demographically and politically, we endeavour to protect and preserve the heritage and identity of this port settlement. We collect items only related to Sandridge/Port Melbourne as defined by the boundaries at 1 January 1994. Totally voluntary and still cataloguing, we are open to the public only by appointment. Although we have no museum area, each year we curate at least one major public exhibition from the collection. Being unstaffed, we are not well equipped to deal with queries.
Address:
Port Melbourne Town Hall, 333 Bay Street, Port Melbourne, VIC
Admission:
Access by non-members for research - $5 per hour negotiable
Collection:
The collection of some 3,000 items includes many photographic images (some original); Sandridge Borough Council documents and plans, primarily 19 Century, eg valuation books 1860 - 1905, early council committee minutes etc.;books, theses and oral history on the area; records of community organisations and sporting clubs; archives and images related to recent major development; local pawnbroker records from 1890's depression; maritime and ecclesiastical content e.g. objects/documents/photos from station pier, Holy Trinity Anglican and 1937 Missions to Seamen; Holy Trinity Anglican and St Joseph's Roman Catholic baptismal/marriage records on database.
Items
Pledge Books
Particulars of Pledges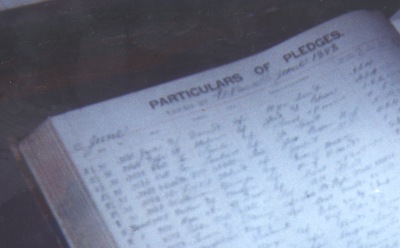 Creator:
Johnny Allsorts, Pawnbrokers
Description:
Three very large ledgers detailing transactions at Port Melbourne pawn shop 'Johnny Allsorts' during the period of the 1890's depression. Ranging from 1891 to 1898 these involve a large percentage of Port Melbourne families
Item Id Number:
481.482.483
Port Melbourne, Victoria (Bay Street)
Pulpit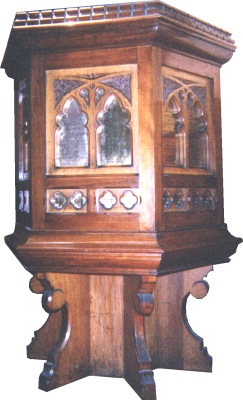 Creator:
McCauley (rebuilt by Harris)
Description:
The Carved wooden pulpit from Holy Trinity Anglican Church of Port Melbourne features eight brass memorial panels and a brass panel for each of the nineteen vicars who served, from 1855 to the Penultimate in the 1980's. Created 1905, rebuilt 1909 after church destroyed in a storm.
Sandridge, Port Melbourne