Post Master Gallery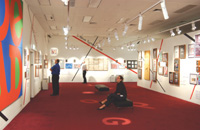 Exhibits include every Australian Commonwealth stamp, a philatelic history of the nation, an Australian design history, "Think Design", a hands on exhibition about stamp design for children of all ages, and a gallery which features 4 new exhibitions a year investigating Australian culture.
The gallery's exhibitions are designed for philatelists, stamp collectors, children and people interested in Australian culture, history and design.
Address:
321 Exhibition Street (Enter from La Trobe Street), Melbourne, VIC
Hours:
Saturday - Monday 12:00noon - 5:00pm, Tuesday - Friday 10:00am - 5:00pm.
Collection:
The National Philatelic Collection is a unique repository of artwork and pre-print items relating to design and the development of Australian stamps. The collection includes comprehensive stocks of stamps in full sheets, postal stationery and philatelic products.
Items
Keyline Design
5/- Cattle Industry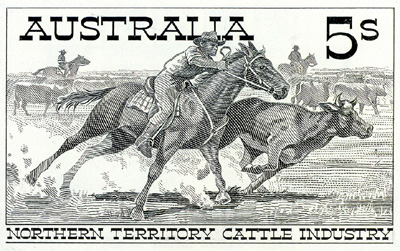 Description:
This keyline design of the 1961 5/- Northern Territory Cattle Industry stamp was prepared by the stamps engraver, Bruce Stewart, as an aid to cutting the stamp die. The engraver cut each line of the design into the surface of a softened steel die at stamp size. Thick lines were cut broadly and thin lines were narrow and shallow cuts. This method of engraving determined the amount of engraving which determined the amount of ink that is pressed into the grooves to print the stamp image.
Proof Sheet
Victoria: 2d Queen-on-Throne proof sheet
Description:
In 1851, Thomas Ham was contracted to engrave a plate of 50 2d stamps as a replacement for existing 2d half-length stamp, the die of which had been damaged. Ham took a year to complete this individual engraving of the 50 stamp impressions on a steel plate.
Stamp designs
Feature Kangaroo, Emu, Crown, Brittania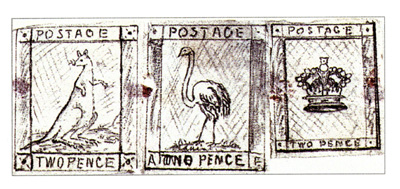 Creator:
Thomas Ham and John Carmichael
Description:
These are the earliest sketches prepared for first stamps of New South Wales. The design for Brittania was undertaken by John Carmichael, a deaf engraver of Sydney who was given the contract to engrave the 2d "Sydney View" stamp plate. The other sketches were by Thomas Ham of Melbourne who secured a contract to print the first stamps of Victoria.
Die proofs on tinted paper
Creator:
Note Printing Branch
Description:
These unique die proofs were prepared in March 1957 to assess the effect of printing stamps on tinted paper. Each proof was printed in the stamps original colour. As a result, it was decided to use tinted paper from time to time. The first stamps to appear on tinted paper were the Australian native flowers series 1959-1960, 1/6d Christmas Bells, 2/3 Wattle, 2/5d Banksia designed by Margaret Stones.