Uniting Church Archives (Victoria)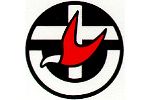 Historic Former Methodist buildings (CATD Memorial); with extensive archives (Methodist, Presbyterian, Congressional, Uniting Church); Small historical display and reference library. Archive financed by SYNOD of Victoria and staffed by volunteers. Part of national network of archives in Uniting Church. Undertakes research for a fee. Linked with UCA Historical Society (VIC) in Lectures and displays.
Address:
64-66 Orrong Road, Elsternwick, VIC
Collection:
A Fairly complete Methodist collection with significant holdings of Congregational and Presbyterian material and a collection of Uniting Church Archives at state and local level.
Items
Registers
Creator:
Methodist and Presbyterian, Congregational
Date:
19th - 20th Century
Church Papers
Spectator 1875-1976
Creator:
Wesleyan Methodist Church
Description:
Bound volumes - complete run except for a few missing numbers