Nillumbik Historical Society Inc.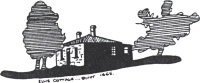 The Nillumbik Historical Society's aim is to collect and preserve historical documents, articles and historic sites. The society's headquarters is a stone farmers cottage erected in 1865, which it operates as a museum and storage centre. The Society's collection includes some 1800 historic photos, in most cases accompanied with a slide and a negative, biographies of 90 local families and institutions, and artefacts and memorabilia.
A tem of speakers visit schools and local interest groups. Displays of historic photographs are mounted as requested. Because Diamond Creek was a gold mining town, special emphasis is placed on gold mining. The Society publishes small books and articles on items of local interest.
Address:
Nillumbik Square, Diamond Creek, VIC
Hours:
1st Sunday of the month. 2pm-4pm
Collection:
The Nillumbik Historical Society's collection is catalogued in three sections:
1. Some 1,800 photographs, many in large display format, and with accompanying slide and negative.
2. Documents. These include personal biographies and family trees, noted on organisations, buildings, events, industries etc.
3. Artefacts. Three dimensional artefacts include domestic and industrial articles, furniture, farm machinery and bric-a-brac.