Benalla Costume and Pioneer Museum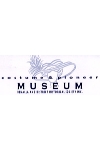 This museum was founded in 1967 by the Benalla and District Historical Society and is now an Accredited Museum under the Museum Accreditation Program. It began in the former Mechanics Institute (1869) which, since 1988, has been extended a number of times.
Address:
14 Mair Street, Benalla, VIC
Hours:
9am-5pm seven days a week
Admission:
Adults $3, Concession $2, Children 50c
Facilities:
Access and toilets for the disabled, car and bus parking, tearoom, quality art and craft for sale, research facilities, newsletter, audio commentary tapes, guided tours.
Collection:
Approximately 2500 items. The museum specialises in costume which is displayed in three large galleries as well as smaller rooms. The collection dates from 1770 to the present and is shown in regular changing exhibitions of dressed models, with appropriate accessories and decor to suit the theme of the exhibition. A permanent display of "The Kelly Story" highlights the exploits of the Kelly gang. Authentic Kelly memorabilia, including Ned's sash and bridle, are shown in a portable cell where Ned was once imprisoned. Also of interest is the exhibition "Benalla's Famous Sons"- Sir Edward 'Weary' Dunlop, Captain Hector Waller, Michael J Savage.
Items
Costumes
Hamill Collection
Description:
Ten gowns and three capes, silk, some crinoline, one bustle style most ornately trimmed. Owned by Mary Hamill (nee Rigmaiden) an English army officer's bride in India in 1844, and who came to Melbourne in 1862. Widowed in 1871 Mary put away most of her beautiful clothes. She died in 1908. A portrait of Mary is shown when any of this collection is on display.
Uniform and medals
Naval Dress Uniform and Medals.
Description:
Captains Frock coat with gold epaulettes and trims, cocked hat and its case, sword belt and case, and seven service medals including the DSO and Bar. Captain Hector M.L. Waller (1900-1942) was born and educated in Benalla and in April 1976, at a ceremony at the Benalla Civic Centre, Captain Waller's naval effects and decorations were officially handed to Benalla Costume and Pioneer Museum by his widow. In September 1941 Captain Waller took command of HMAS Perth for duties in the Pacific. HMAS Perth participated in the evacuation of Singapore and endeavoured to prevent the Japanese invasion of JAVA. The HMAS Perth and USS Houston were sunk by the Japanese in Sunda Strait. Almost half of HMAS Perth's company of 682 men went down with their ship, but many who escaped death at sea later died as prisoners of the Japanese on the Burma-Thailand railway. Only 229 members of the crew lived to return to Australia. Captain Waller was last seen on the Bridge directing his men as they threw Carley Floats overboard, and was recorded as "missing, presumed killed in action". Belonged to Captain HML Waller who was born in Benalla. Took command of HMAS Perth which was sunk in the battle of Sunda Strait. Capt. Waller died at sea with 340 of his men. Uniform given by his widow to the museum.
Drum and sticks
Waterloo Drum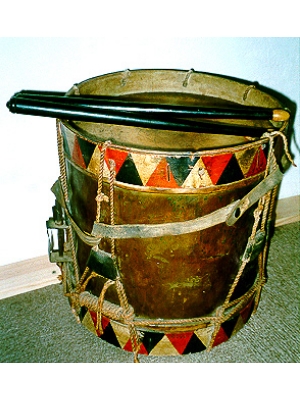 Description:
Side drum, H 36cm x diam. 34cm, hide surface, brass walls with rope and leather straps linking painted wooden rims, bog ash sticks. Drum used in the Battle of Waterloo 1815 when the Dutch and English armies commanded by the Duke of Wellington defeated Napoleon I. Originally owned by the family Van Lennup, landed gentry who provided men and equipment to fight in wars and who had been, for over a century, supporters of the Royal House of Orange-Nassau. Handed down though the family and then associates whose descendant donated it to the museum.
Sash
Kelly Cummerbund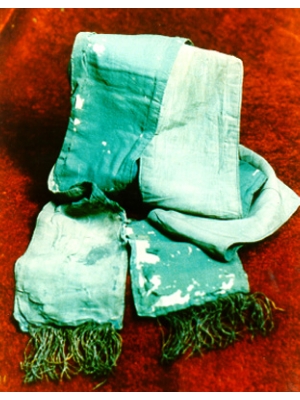 Description:
Sash of green silk lined with green cotton, buff linen interface, gold thread fringes. Owned by bushranger Ned Kelly and worn by him under his armour when captured at Glenrowan on the 28th of June 1880. It had been given to Ned in 1865 after he saved a child from drowning. The cummerbund was collected when Ned was captured at Glenrowan on June 28, 1880 by Dr John Nicholson of Benalla, who dressed Ned Kelly's wounds. It remained with the Nicholson family until 1973 when it was donated to the museum by Dr Nicholson's daughter, Mrs Emmie Mcnab.
yeulburn River, Seymour, Victoria
Dress
1770s Sacque Dress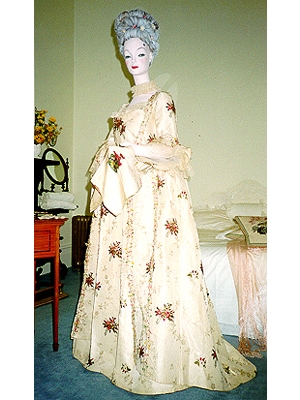 Description:
Sacque style dress of embroidered cream silk brocade, hand embroidered with red and pink flowers and green leaves. Fitted bodice, fitted elbow length sleeves, paniered skirt, slight train. Handed down from Glasgow wearer through female descendants and given to the museum in 1995, in pieces. Reconstructed from original pieces except right sleeve and cuff were made from accompanying remnants. All had been kept folded in tissue in an ordinary cardboard box for years.