Powder Magazine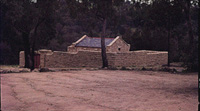 This was one of several government magazines built for the safe storage of gunpowder towards the end of the 1850s when surface gold mining became exhausted and blasting was required. Miners lodged gunpowder in the magazine, paying a small rent for the service.
Address:
Skidmore Road, Gorge Reserve, Beechworth, VIC
Admission:
Free for National Trust Members, charges apply for non-members
Facilities:
Suitable for less active visitors, guided tours by appointment, picnic areas, nature walks.