Wollongong City Gallery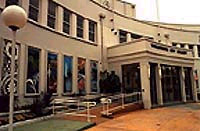 Wollongong City Gallery is one of the largest regional art museums in Australia. The dynamic exhibition program features the Gallery's permanent collection as well as temporary exhibitions which change monthly and include local, national and international art. The Gallery occupies the former city council administration building, which was officially opened in 1952, and was converted into an art gallery in 1991. The floor plan of the building evokes the shape of a jewelled crown, commemorating the coronation of Queen Elizabeth II.
Address:
Corner of Kembla &Burelli Streets, Wollongong, NSW
Hours:
Tuesday - Friday 10:00am - 5:00pm; Saturday, Sunday & Public Holidays 12:00noon - 4:00pm. Closed Monday, Good Friday, Christmas Day, Boxing Day & New Years Day.
Collection:
Wollongong City Gallery's permanent collection of approximately 1900 works encompasses three main areas. The collection of colonial Australian art provides an unparalleled visual documentation of the history of the Illawarra region over the past 150 years, and includes works by Eugene von Guerard, Tom Roberts, Conrad Martens and many others. The collection of Aboriginal and Indigenous Australian art features traditional works from regions around Australia and a strong representation of the local area, with a developing collection of contemporary Aboriginal works. The contemporary Australian collection includes such prominent artists as Arthur Boyd, Brett Whitelyu, Colin Lanceley and Garry Shead, and also includes a strong representation of contemporary Illawarra artists.
Items
Oil painting
View of Lake Illawarra with distant mountains of Kiama
Creator:
Eugene von Guerard
Description:
Oil on canvas. This painting by prominent Austrian-born painter Eugene von Guerard depicts the landscape of the Lake Illawarra foreshore looking south towards Kiama on the South Coast of New South Wales, circa 1860. Deemed to be of major historical significance to the area, this work is one of only a few paintings of the area by von Guerard, and is a cornerstone of Wollongong City Gallery's permanent collection.
Lake Illawarra, Kiama, Wollongong, South Coast NSW
Oil painting
View of Gerringong Beach
Description:
Oil on canvas. This landscape by one of Australia's most prominent painters reflects Rees' special affinity with the South Coast region of New South Wales, in particular Kiama and Gerringong. Wollongong City Galley's collection includes several Rees works of this region. Rees painted the area over many years; this particular work is a good example of the style of his later work.
Gerringong, Kiama, South Coast NSW
Oil and wood relief
South Coast from Coalcliff Mine to DH Lawrence
Description:
Oil and wood on canvas. This two dimensional painting with relief is typical of Lanceley's most recognisable style. Depicting the landscape of Coalcliff to Thirroul, north of Wollongong, this work encapsulates the diverse scenery of the area; encompassing the escarpment, the ocean and the urban and industrial landscapes of northern Illawarra.
Coalcliff, Thirroul, Wollongong, Illawarra
Sculpture
Meripelko
Description:
Abalone shells, twine, hessian and telephone wire. 2.42m(h). Created during the artist's residency at Wollongong City Art Gallery, this dress-shaped sculpture reflects issues associated with Välimäki's experience of migration to Australia from her native Finland, with particular reference to the Australian coast.
Wollongong, New South Wales, Finland
Lighting prototype
Lustmite
Description:
Solid aluminium, stainless steel, cast acrylic sheet and light emitting diodes. This innovative lighting prototype utilises new manufacturing technologies and recycled materials. Constructed in the shape of an hermaphroditic metal creature, 'Lustmite' is an excellent example of Branden's science-fiction inspired work.