Brewarrina Aboriginal Cultural Centre
Brewarrina Aboriginal Cultural Museum is located at an ancient Dreamtime site, the Aboriginal fisheries on the Barwon River, our Museum offers you the chance to experience Aboriginal culture first hand in the very spot where the local tribes have gathered for thousands of years. We also have exhibits which tell of Aboriginal life in Brewarrina today and show the works of art created by our people. School groups can also experience aboriginal studies first hand. The museum runs a range of special programs for school groups. We will organise specific programs for a one hour visit, a day long visit and even a week long camp for kids at every level of school. This is an ideal way to give students first hand experience of Aboriginal culture.
Address:
Cnr Bathurst and Darling Streets, Brewarrina, NSW
Hours:
Monday to Friday 9-5pm, Sat 10-2pm, other times by appointment.
Admission:
Adults $6, Seniors $3, Students $3
Facilities:
Wheelchair access, guided tours, brochures, language programs
Collection:
The collection includes stone and wooden local artefacts, photographic displays, Dreamtime stories, traditional artefacts and information, a section concerning the Mission Station.
Items
Display
Life along the river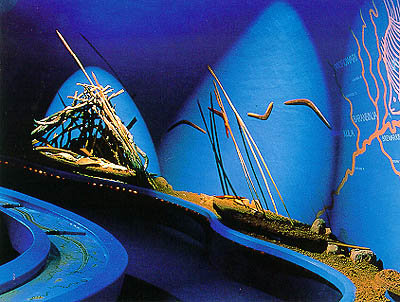 Description:
Museum Display showing life along the river
Display
Aerial Plan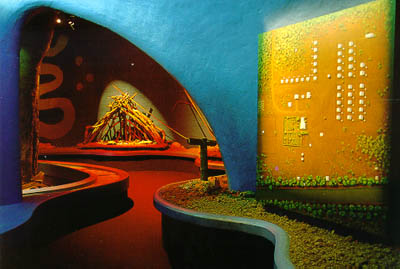 Description:
Interior of the museum with aerial plan of the Aboriginal Mission
Photograph
Aboriginal boys fishing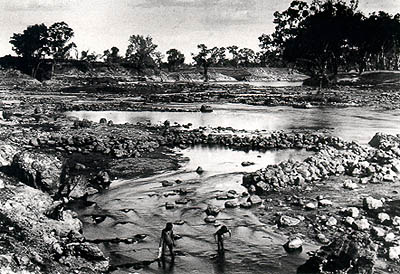 Description:
Aboriginal boys fishing in the ancient Aboriginal fisheries at Brewarrina