New England Brass and Iron Lace Foundry Museum
Established in 1872, this is the oldest operating foundry in Australia. It is famous for its production of iron lace, ornamental and other castings. It also has an extensive collection of cedar patterns and early blacksmiths' and founders' tools. The entire foundry is in original working condition and is a fascinating industrial relic.
Address:
6 East Street, Uralla, NSW
Hours:
Most days 9.00am - 5.00pm.
Admission:
Self-guided visit $3.30, Guided tours for groups $4.40
Facilities:
Wheelchair access, shop, guided tour, demonstrations, bronze gift shop,
Collection:
Industrial Design, metalwork, woodwork, archaeology and antiquities, archives, cultural heritage, domestic items and technology, education and schools, images, local history, professions and trades, rural life, social history, engineering, horse-drawn transport, industry, manufacturing, science and technology, steam machinery, tools.
Items
Forge
Blacksmiths Shop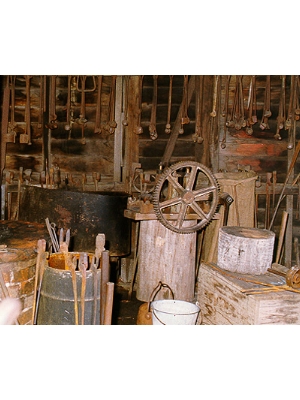 Creator:
Christopher Andrew Young
Description:
Area of 10 metres x 6 metres, includes brick forge and elephant hide bellows and spring hammer.
The forge is in constant use by our blacksmith, we gather the charcoal locally.
Pouring Floor
Pouring Floor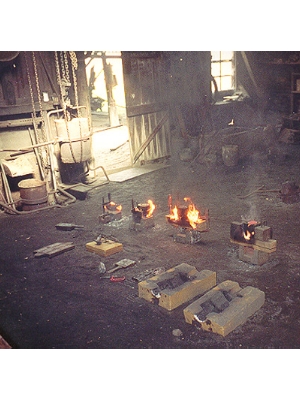 Creator:
126 years of burnt sand
Description:
Area approximately 12 metres x 9 metres with black sand floor.
The area where sand moulds are made, dried in core oven and then poured with molten metal.
Overhead Gear
Overhead Gear
Creator:
Henry Sheldon Goddard
Description:
Main shaft supporting wooden pulleys and leather belts providing power to machinery.
Steam engine removed when electricity came to Uralla 1938. Taken away to "Kingston Station", brought back to foundry in 1952 and melted down for scrap. All of the museums machines still work off overhead gear.
Delivery Vehicle
Willy's Overland 1924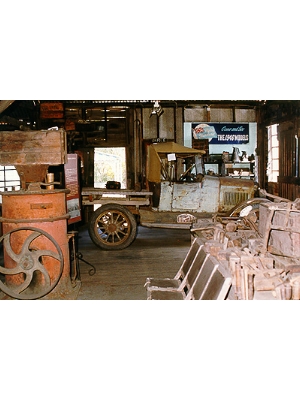 Creator:
Willy's Car Company (Chrysler)
Description:
Originally a car cut down into a utility
The back of the car was cut off (still here) to turn it into a utility and therefore a commercial vehicle. This meant that they did not have to pay fuel excise imposed after WWI.
Cedar Patterns
Cedar Patterns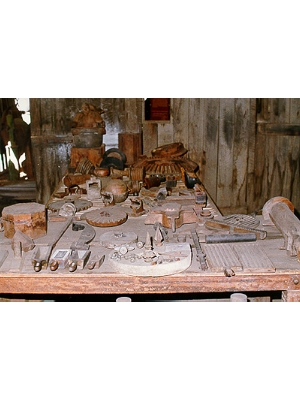 Description:
Wooden carved pattern to use in sand moulding/ cast iron
These hand carved patterns were made in the foundry by 5 full-time pattern makers (master craftsmen) employed 1872-1900