Campbelltown City Bicentennial Art Gallery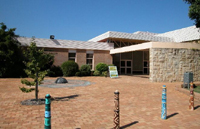 The Campbelltown Gallery was purpose built as a Bicentenary project. The building was designed to incorporate exhibition spaces, a library, kitchen facilities for major functions as well as workshop spaces for community and educational art and craft classes. A stimulating and diverse range of local, regional and national exhibitions are displayed. Adjoining the gallery is the rapidly developing Sculpture Garden and a Japanese Teahouse Garden. The Gallery offers workshop courses in a range of art and craft disciplines.
Address:
Art Gallery Road, Cnr Camden and Appin Roads, Campbelltown, NSW
Hours:
Tuesday - Saturday 10:00am-4:00pm; Sunday and Public Holidays 12:00noon - 4:00pm; Monday by appointmnent.
Facilities:
Wheelchair access, education programs, art-craft workshop centre, guided tours
Collection:
The Campbelltown Gallery has a commitment to collecting works that have made a significant and recognised contribution to the development of Australian art. The collection includes contemporary art works of regional significance to Campbelltown and the South-Western Sydney region . The gallery has a strong Indigenous collection including barks, paintings and contemporary Aboriginal and Torres Strait Islander fibre works. A variety of historical art with regional significance to the exploration and colonisation of Campbelltown and the South West Sydney region is illustrated through the works of Joseph Backler. The Gallery also has a recently donated collection of significant contemporary art works representing Scottish artists from the Glascow School of Art.
Items
Painting
Big Screen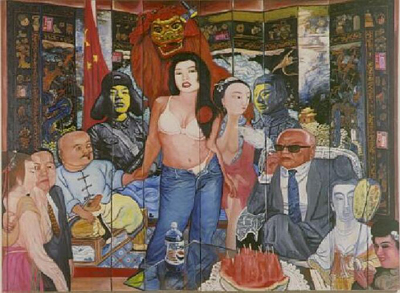 Description:
A significant proportion of Campbelltown City Art Gallery's permanent collection has been formed through the acquisition of winning works from its annual Festival of Fisher's Ghost Art Award. The award began in 1962 and has consistently attracted artists from around the nation. Guo Jian's work Big screen, was acquired by the Gallery after winning in 1998.

Guo Jian is a Chinese born artist, one of many who have come to prominence in Australia since the 1990s. Born in Guizhou in 1963, Jian arrived in Australia in 1992. His work is also represented in the collections of the National Gallery of Australia; Global Resources, Los Angeles and private collections around the world.

Guo Jian's work is inspired by the Communist propaganda posters he was exposed to while growing up. Big Screen combines visual references to Chinese folklore and religion, China's Communist history and the growing influence of Western commercial culture in modern China. This commercial culture is presented as a negative influence that is linked to issues of self-gratification and a rejection of traditional Chinese socialist values.
Item Id Number:
1998.14.a-b
Sculpture
A tether of time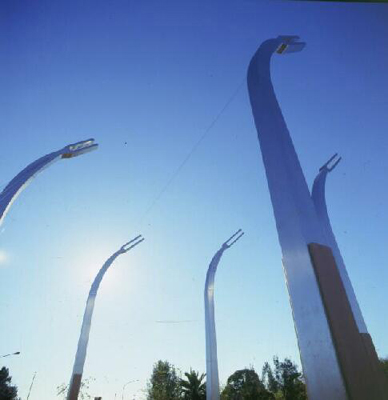 Description:
Campbelltown City Art Gallery's Sculpture Garden was formally opened as a Centenary of Federation project in 2001. Joan Brassil's 'A tether of time' was commissioned as a permanent feature of the Garden. Brassil is a leading Australian sculptor who works in the Campbelltown suburb of Wedderburn. Born in Sydney, 1919, Brassil has a long history of association with Campbelltown as an artist and educator. In 2000, she was awarded the Order of Australia for her service to the visual arts.

'A tether of time' is a sculptural installation and soundscape that reflects the natural and industrial history of Campbelltown. The wind-harp sings in memory of three windmills that once operated in Campbelltown. A shallow pool beneath the wind-harp reflects the history of water conservation and Campbelltown's geographic location between two rivers. Three native Casuarina trees represent the Casuarinas growing throughout Campbelltown. The sigh of the wind through the leaves of the Casuarina echoes the song of the wind in the wind-harp. Brassil writes, "I would like the sculpture garden to sing, sigh, reflect and inspire according to the continually changing elements of any light and sound moment - to be a place of reflection and stimulation of what is in existence here and now."
Textile
Parallel lives, "blending to whiteness"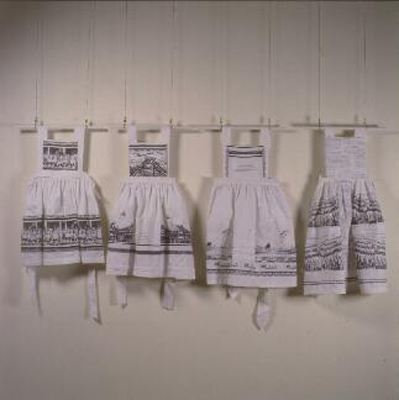 Description:
Campbelltown City Art Gallery has a strong collection of works by contemporary Aboriginal and Torres Strait Islander Artists, such as Brenda Palma.

Brenda Palma is a Sydney-based artist who is also a writer and curator. As well as Campbelltown, her work is represented in the collections of Casula Powerhouse; Telstra Australia; Condoblin Art Gallery; Jura Regional Hospital, Switzerland and numerous private collections.

Parallel lives, "blending to whiteness" is an installation which is dedicated to the parallel lives of Palma's mother and grandmother. Both women were removed from their family and culture to work as domestic servants in white, middle class homes. The work features a series of aprons, each telling a story of Aboriginal survival, dispossession and dislocation. The installation is composed of individual 'fragments' taken from text and photographic material collected from archival and family sources. Palma treats these fragments as icons which reflect and comment on the exploitative assimilation policies of Australia's past and the effect of this on the artist's own family life and heritage. Palma describes this as the "blending to whiteness" which has persisted over four generations. This work was acquired as part of 'Spinifex Runner', an exhibition of contemporary Aboriginal and Torres Strait Islander art toured by Campbelltown in 1999 and 2000.
Item Id Number:
1997.40.a-k
Painting
Snailsnake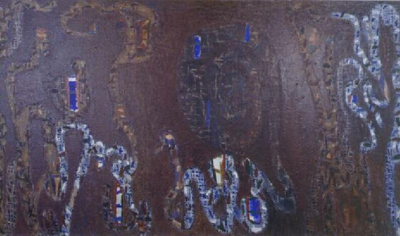 Description:
Campbelltown City Art Gallery's collection features many works by professional artists who live in the Campbelltown region. John Peart is one such artist who lives and works in the bushland suburb of Wedderburn. Peart has had a long and distinguished career in Australian painting and is one of Australia's foremost abstract painters. His work is represented in many collections, including the National Gallery of Australia; The Art Gallery of New South Wales; the National Art Gallery of Victoria; and the Museum of Contemporary Art.

Snailsnake was the winner of the Sulman Prize in 2000 and was painted over a period of eleven years, 1989 - 2000. New layers of paint were used to carve out and whittle away at shapes until they seemed to have a life of their own. Peart describes this process as 'like dreaming onto the canvas'. In Snailsnake these forms took sinuous and serpentine shapes. Peart attributes this to the influence of his Wedderburn surrounds. He writes, "I am surrounded by bush so it should not be surprising if textures and colours of foliage, sticks, rocks, snakes and snails haunt my paintings."

Campbelltown City Art Gallery will be touring a survey of John Peart's work nationally in 2004 and 2005.
Sculpture
Creek leaf series (Northern Winter)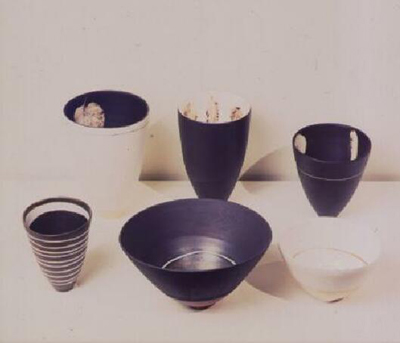 Description:
Louise Boscacci's Creek leaf series (northern winter), (reduced earthenware, terra sigillata, glaze, line inlay, local leaf prints), is an example of Campbelltown Art Gallery's unique collection of contemporary Australian ceramics.

Born in Townsville in 1960, Boscacci is a prominent Australian ceramicist. In addition to Campbelltown, her work is represented in the collections of Newcastle Regional Art Gallery, the University of New South Wales, Laverty and private collections in Australia and overseas.

Boscacci describes Creek leaf series (northern winter) as 'personal place settings' that embody her response to the Australian landscape. Her experience of growing up in the landscape of northern Queensland is a vital influence on her artistic practice. She writes, "These ribbons of coastal range pervade my imagination wherever I go." (Catalogue Essay, Ceramics: The Australian Context), Creek leaf series (northern winter) was acquired as part of the national survey exhibition, 'Ceramics the Australian context', held at Campbelltown City Art Gallery in 2000. Campbelltown will host 'Ceramics the Australian and New Zealand Context' in 2003.
Item Id Number:
2000.1a-f