Christmas Museum Gallery, Nativity House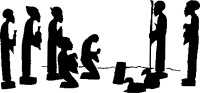 Nativity House is the only Christmas Museum in Australia. It displays over 600 nativity scenes (cribs) from 60 countries. The materials used to create a nativity scene are unique to each country and include silk, gold, silver,, wood, ebony, maize leaves, straw, wood shavings, embroideries, plaster terracotta, clay, turtle shell, glass and crystal. Other displays include antique Christmas cards, handcraft and nativity paintings after the old masters. A unique multicultural Christmas celebration which shows the true meaning of Christmas, which is the birth of Christ.
Address:
136-146 Garfield Road, Horsley Park, NSW
Hours:
1st October to 24th December, for overseas visitors open all year, by appointment only.
Admission:
Adults $5.50, children up to 12 years old $3.50, high school students $4.50, families $14.50
Facilities:
Wheelchair access, shop, information talk
Collection:
The true meaning of Christmas the birth of Christ is depicted with 600 Nativity scenes from 60 countries. A unique collection, the only one in Australia for overseas visitors open all year by appointment if I am not overseas myself.