Granville Historical Society Inc.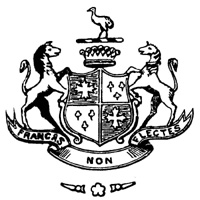 Our mission is to seek out and archive all materials, resources and artefacts which contribute to an understanding and appreciation of the history of the Granville district and to provide researchers access to this material. The Society has a fine reference and resource library for the district and operates from the Granville Neighbourhood Centre.
Address:
2 Carlton Street, Granville, NSW
Hours:
Wednesday 10:00am - 4:00pm and every fourth Saturday of the month 1:00pm - 4:30pm.
Collection:
Granville Historical Society Inc. has an extensive library which contains numerous publications relating to the history of Granville: its environs, people, places and events. The artefacts collection consists of over six hundred items which reflect life in Granville. There are over two hundred and thirty files of family histories and genealogy which are available in the archive. There are also over two hundred and fifty files covering commerce, sport, religion, houses, local government, industries, buildings and many more subjects. The society holds a large collection of photographs which shows the development of Granville.