Mt Victoria and District Historical Society Museum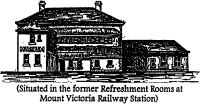 The museum is located in the unused refreshment rooms and staff accommodation areas of the heritage listed Mt Victoria Railway Station. The museum's collection contains early Australian memorabilia, local artefacts and the documented history of the districts early settlers. A collection of railway refreshment room memorabilia and a collection of artefacts recovered during the archaeological investigation of the Cox's River convict stockade are featured in the display.
Address:
Station Street, Mt Victoria, NSW
Hours:
2pm-5pm Sat, Sun and school holidays, or by appointment (closed Christmas Day and Good Friday)
Facilities:
Wheelchair access to ground floors, shop, guided tours
Collection:
The collection comprises some 2,000 objects and 1,000 photographs. Farm machinery, household items furniture and paintings, photographs of people, buildings and places are included in the objects on display.
Items
Memorabilia
Railway Refreshment Memorabilia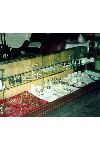 Description:
Collection of some 200 items of cutlery, china, glassware, silverware and napery
Item Id Number:
1522-1528
The collection is a fine example of the refreshment room services during the peak of rail travel.
Water filter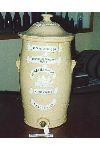 Creator:
Slack and Brownlow, Canning Works, Manchester
Description:
Stoneware compressed charcoal water filter, 600mm by 280mm diameter.
Player piano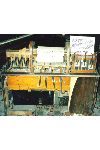 Description:
Pushed on over standard piano keyboard to form player.
Used externally over standard piano keyboard, forerunner of todays player piano. Wooden frame with provision for piano roller and foot pedals for pump control.
Harrow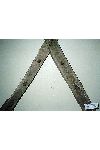 Creator:
Hand made by Pat Cullen
Description:
Handmade wooden harrow with steel prongs. Used by earliest settlers in district. Made of Hardwood timber frame bound at each corner with fencing wire. Fitted with 26 steel (hand forged) spikes.
The Harrow was used by the early settlers in the Kanimbla Valley in the vicinity of Cullenbenbong on Pat Cullens farm.