Museum of Sydney on the site of First Government House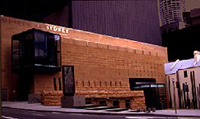 A public plaza, First Government Place, preserves the site of the first Government House (1788). A modern museum explores the meanings of 1788 as a critical turning point in the history of Australians, with displays on Aboriginality, the environment, trading and meeting, transport, power, law authority, everyday life.
Address:
37 Philip Street, Sydney City, NSW
Admission:
Members Free, General $7.00, Concession/Child $3.00, Family $17.00.
Facilities:
Wheelchair access, large print guides, AGL theatre with hearing aid loop, shop, education and public programs,venue hire.
Collection:
150 prints and photographs; 100 Museum of Sydney and First Government house objects.
Items
Photograph
Waratahs, Clarence Colliery, Blue Mountains
Description:
Photo transparency of National Parks for video wall, showing waratahs and the bushland environment as it existed before European contact.
Item Id Number:
CD 22/0665
Photograph
Panorama of Sydney
Description:
Photographic print series, 14 prints showing a 380 degree panorama of Sydney Harbour from martell tower at Fort Denison, Dawn through Sunrise.