Elizabeth Guzsely Gallery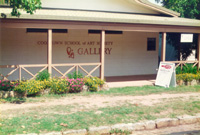 The art gallery was built and opened in 1988 and run by volunteers members of the Cooktown School of Art Society Inc. Local scenes by local artists are featured in this gallery. Approximately 100-150 works are on display. Works are mainly by art society members, with pottery and ceramic pieces available. Most pieces are for sale. A few paintings acquired from annual exhibitions are owned by the art society and are not for sale.
Address:
Charlotte Street, Cooktown, QLD
Hours:
Monday 10.00am - 3.00pm, Tuesday to Saturday 10.00am - 12.00noon
Admission:
Annual exhibition $2.00, Other times by donation.
Facilities:
Wheelchair access, Art classes and workshops held, Annual exhibition on June long weekend, Annual photography exhibition in September, Some touring exhibitions
Collection:
Art, contemporary art, drawing, prints, painting, pottery, ceramics, bronze, sculpture and wood carvings.
Items
Oil painting
Floundered on the Endeavour River
Creator:
Elizaber Guzsely
Description:
Oil painting depicting boats and part of foreshore of Endeavour River. Elizabeth Guzely was a founding member of the Cooktown School of Art Society. The society was formed in 1978. Elizabeth passed away in 1997 after a short illness. She was 64.
The Cooktown School of Art Society Gallery was named the Elizabeth Guzely Galleryin in memory of Elizabeth in 1998.
Painting
Flora
Creator:
Vera Scarth-Johnson
Description:
A collection of plants of the Cooktown area. Painted in acrylics, acquired by an acquisative award at the annual exhibition in 1986.
Vera Scarth-Johnson donated 150 botanical illustrations to the people of Cooktown in 1989. A botanist as well as an artist, Vera was patron of the Art Society. She passed away on the 19th May, aged 86.
Oil painting
In a Mountain Rainforest
Description:
A beautiful rendition of a tropical waterfall in a rainforest. Toy Cook was a member of the Cooktwon School of Art Scoiety 1982 - 1992. The painting was acquired from an annual art exhibition entry.
Drawing
James Cook Museum
Creator:
Anthony Vanderbrock
Description:
Pen and ink drawing of James Cook Museum at Cooktown. A well executed pen and ink drawing showing good perspective of this historical museum. This framed drawing was donated to the art society by the artist.
Oil painting
Abandoned
Creator:
Melilissa Davies
Description:
This painting shows the aerial perspective of outback Australia with a large sky area and painted in portrait format. Mellissa was 14years old when she entered this painting in the acquisative award sction of the annual exhibition. Judge was Ron Edwards. Cairns 1991.