Central Queensland Military and Artefacts Museums Ass. Inc.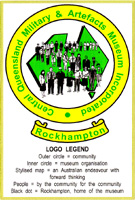 Rockhampton is the only city in Queensland that has has an uninterrupted military presence of a 'regional' Troop since 1859. Our aretfacts and militaria traces this history through the display of uniforms from that time until now along with transport displays and displays of insignia.
Address:
156 Bolsover St, Rockhampton, QLD
Hours:
Monday - Friday 9am - 4pm, Saturday & Sunday 10am - 3pm
Admission:
Adults donation or $3, Children under 12 donation or $1
Facilities:
Wheelchair access, shop, reference library, guided tours, education programs for regional schools, brochure.
Collection:
Because we cater for 'local' memorabilia, our displays have a deep emotional impact on all visitors. We have attempted to cover all conflicts the local troops have been involved in since Queensland's Statehood in 1859. Not only do we have a listing army connection but the Naval Brigade on the Central Queensland coast dates back to 1863.
Items
German Sentry's armoured Breastplate
German Protective armour
Description:
This breast plast was captured by the Australian Troops in 1918.
Item Id Number:
CQM 009/98
A donation by the 1st Central Queensland Light Horse Assoc.
S.A.F Museum Display
Singapore History
Creator:
Singapore Armed Forces, Central Queensland Base, Rockhampton
Description:
History of Singapore since Independance in 1966 plus a display of Military artefacts from Singapore Armed Forces.
Item Id Number:
CQSAF1-300/2000
Commander of SAF obtained approval of Singaore Government to have a permanent historical display outside Singapore.
RAAF Crests
Description:
165 Royal Australian Airforce Crests plus 200 American-French Foreign Legion - German Crests and Badges as one complete display.
Item Id Number:
CQM136/2000
Collection was collated by one man who donated the entire display to the museum so that it could be appreciated by all members of the community.
1st Light Horse QMI
Description:
Fully uniformed mannequin of Light Hourseman pluas all accessories and saddlery for his mount with history of Troop since 1859.
Item Id Number:
CQLH-092/99
Items donated by 1st Central Queensland Light Horse Regiment (Rockhampton Histoircal Troop) who ensure the memory of the origianl troopes does not die.