WoodWorks Forestry and Timber Museum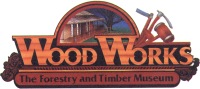 Constructed completely out of timber, Wood Works is operated in partnership by the Queensland Department of Primary Industries and the Queensland Museum. The wide range of static and working displays include a steam-driven sawmill; bullock drays, timber snigging and haulage wagons; pit saw and crosscut saw demonstration area; a working blacksmith's shop; timber cutter's bark hut; a 1925 Republic winch truck; a springboard display; and pioneering forest hand tools display. On various occasions throughout the year WoodWorks runs steam-driven sawmill days which demonstrates the operations of a typical bush sawmill of the 1860's.
Address:
Cnr Fraser Road & Bruce Hwy, Gympie, QLD
Hours:
Mon-Fri 9am-4pm,Sun 1pm-4pm,Closed Saturdays and public holidays.
Admission:
Adults $4.00, students and pensioners $2.00
Facilities:
Wheelchair access, toilets, shops, working demonstrations and guided tours, education programs
Collection:
Approximately 250 items related to the pioneering timber industry of yesteryear.
Items
Truck
Republic Winch Truck Model 20WC
Creator:
Republic Motor Truck Co. Inc., Alma, Michigan
Description:
Four cylinder truck fitted with timber trolley and winch.
Bullock wagon
Description:
18'4" long timber bullock-drawn wagon, believed largest ever built in Queensland.
Bullock wagon
Description:
Extremely well built 16 feet long timber bullock wagon.
Timber section
Kauri Pine Butt Section
Description:
Cross section of large Kauri Pine, cut in the Atherton Tablelands 1939, estimated 619 years old.