North Queensland Military Museum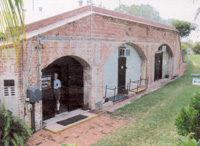 The North Queensland Military Museum is housed in a casemate and magazine built in 1890. The museum is run by the Kissing Point Military Foundation Volunteers. The Museum has three sections: The World War 1 Room; The World War 11 Room and the Magazine Picture Gallery.
Address:
Jezzine Barracks Northward, Townsville, QLD
Hours:
Monday, Wednesday, Friday 9:00am - 12:00noon; Sunday 10:00am - 2:00pm
Collection:
The North Queensland Military Museum's collection focuses on the period from 1890 to 1946. The collection contains WW1 and WW11 items and a list of all Queensland enlistees. The major focus is on the Kennedy Regiment - 31st Battalion (local). The Museum also has a reference library available to the public.