Perc Tucker Regional Gallery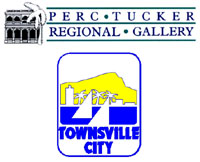 Perc Tucker Regional Gallery is a dynamic visual arts center with a significant collection of north Queensland art. Housed in one of Townsville's finest heritage buildings, the gallery has an exciting and diverse program of local, national and international exhibitions with a special focus on exhibitions featuring north Queensland artists. Five exhibition display areas, including two main floor spaces, enables the gallery to have a varied exhibition program that changes regularly throughout the year. Floor talks, lectures, education programs and performances of music, theater and dance supplement exhibitions.
Opened in 1981, Perc Tucker Regional Gallery is Townsville's premier Gallery and offers an engaging program of local, national and international exhibitions complemented by a dynamic public program of talks, tours, workshops and events. The Gallery presents two floors of changing major exhibitions, two niche galleries of primarily local artists, and an original bank vault that now serves as a display area for the ceramic collection.
Recurring exhibitions of national interest are Strand Ephemera and the Percival Portrait Award, both held biennially and calling for national entries. Strand Ephemera showcases selected sculpture and installation along the magnificent Townsville foreshore. The Xstrata Percival Portrait Award in 2010 will offer $20,000 to a winning portrait that in some way references Townsville.
Address:
Flinders Mall, Townsville, QLD
Hours:
Mon-Friday 9.00am - 5.00pm, Sat & Sun 10.00am - 2.00pm.
Facilities:
Wheelchair acess, gallery shop, education programs, guided tours by appointment, floor talks, corporate venue hire, and art workshops.
Collection:
The core theme of the Perc Tucker Regional Gallery's collection is the Tropics. This theme informs all acquisitions across many different media, and the strength of the collection can be seen in the historical and contemporary art of north Queensland. Works produced by north Queensland artists, works produced in response to the tropics by artists from across australia and internationally, and popular art and ephemera are all collected. The location of Lyre Bird Press in Townsville means that contemporary prints and artists books are a distinct and significant part of the collection, and the Gallery's acquisition of north Queensland, national and international ceramics is noteworthy. Contemporary art by Aboriginal or Torres Strait Islander artists is an integrated part of the collection, while Aboriginal or Torres Strait Art that relates to traditional culture forms a small, but distinct group of works. Contemporary art from Papua New Guinea, particularly art created since Independece in 1975 is also collecting priority and particular attention is paid to work that interprets traditional artforms and cultural imperatives in the face of Westernisation and modernisation.
Items
Painting
Lik Lik meri bilasim elikopta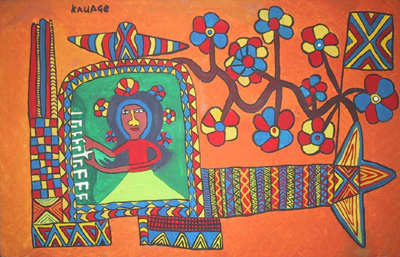 Description:
A synthetic polymer painting on canvas depicting a small girl in her decorated helicopter.
Ceramic
Worderley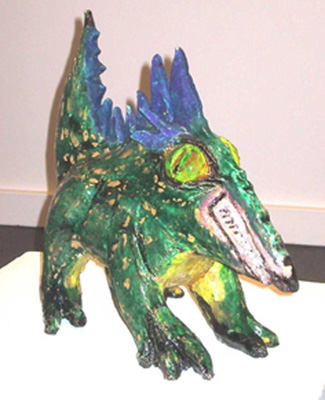 Description:
a ceramic creature from the artists imagination.
Painting
Townsville (painted from Evans Deakin Slipway, Ross Creek)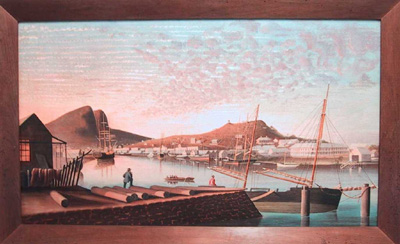 Creator:
William J. Allom
Description:
An oil on canvas showing Townsville and the distinctive Castle Hill rising above the city's wharves and Ross River.
Painting
Studies for paintings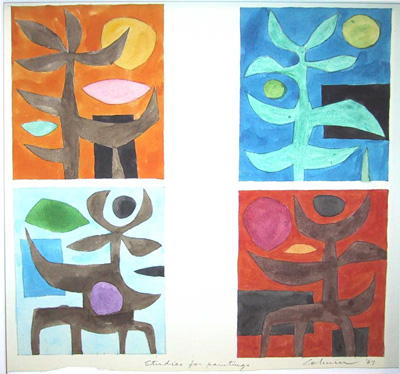 Description:
An abstract water colour on paper showing four studies for other work.
Artist Book, Print
Tropical Wood Engravings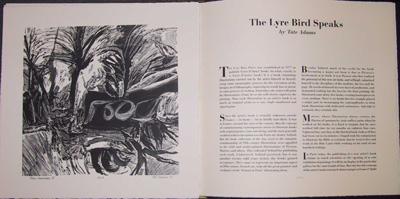 Description:
A collection of prints depicting palms and landscapes relating directly to the tropics. With text on the artist, Tate Adams.
Tate Adams is the principal of Lyre Bird Press, Artist Book publishers in Townsville.