Quilt No.1017LR - Lois Ryan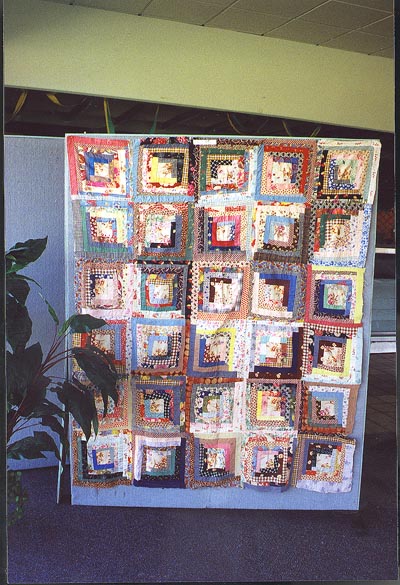 Description:
Log Cabin quilt made from a variety of cottons and silks. There is no padding and the backing is calico bags. 1500 x 1250 mm.
History:
Quilt made in 1910 in Swan Reach SA, by Elizabeth Emma White, for her grandson William Maurice Collins. It is now owned by his daughter Lois Ryan. The quilt has never been used as it was never finished.
Story:
"The quilt belonged to my father. His name was William Maurice Collins. He was born 3rd November 1910 in Mannum, South Australia and died November 1996 in Kalamunda WA. It was made for him by his grandmother, Elizabeth Emma White in 1910 - the year that Dad was born. She made a quilt for each of her grandchildren - Dad had seven brothers and sisters and I'm not sure how many other grandchildren there were. Granny White was born in Australia on 8th May 1853 and died on 27th July 1940. Her parents came from England (they came from a family of lacemakers) but her father was a tailor in Australia. Apparently there were boats that carried fabric (and other supplies) up the Murray River and Granny White may have bought the materials from there to make her quilts - we don't know that. She lived out in the country just out of Swan Reach in South Australia." [Lois Ryan]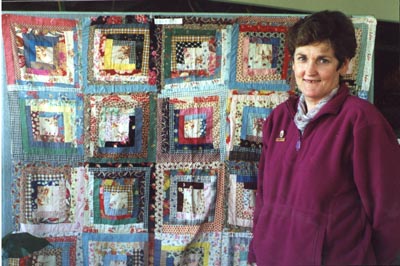 Related Quilts:

4 Pieces of a patchwork quilt which was formerly a whole quilt. It is pieced in cottons in blues reds and browns in many prints. There are whole circles and pieced circles against a plain cream calico background. It is wool lined and is quilted. There are the initials 'A.B.' and '1828' on a central piece. The 4 pieces are various sizes.

Patchwork quilt, log cabin pattern. Made of strips of dark and light material arranged to produce strongly contrasting bands running diagonally across the quilt. Colours are mainly pinks and blues in small floral and paisley cotton prints. There is no padding.
1310 x 1140mm

Silk and velvet frame quilt with centre patchwork block of squares and triangles with a top and bottom border of silk in Royal Stewart tartan. This rectangular centre frame is surrounded by plain and 'saw tooth' (triangles) borders. The outer border is dark grey silk embroidered in pastels in stem stitch in a meandering vine and leaf pattern. There is no padding or quilting. Backing originally of mustard wool material machine stitched along turned in edges. Dark red cotton is attached to original backing.
2015 x 1320mm

Machine pieced cotton quilt, in random design of geometric pieces. Materials used are cotton sheeting, dress fabrics, broderie anglaise, and seersucker. There is no padding, and backing is white curtain lining.
1540 x 1150 mm.

Machine pieced cot quilt made from squares of material including tweed, wool, blanket and pyjama material. The squares are joined in rows with colours randomly placed. There is a pink satin edging. The backing is part of a pale pink blanket.
1150 x 900mm

Quilt made with a rectangular centre panel of cotton fabric printed with red poppies and black flowers in a japanese style. The panel is surrounded by a wide black satin border. The backing is of black cotton, covering a previous backing of green floral cotton fabric. The padding is feathers.
1700 x 1370mm