Quilt No.1017LR - Lois Ryan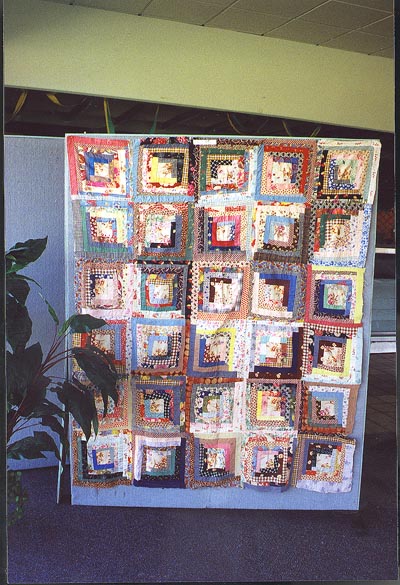 Description:
Log Cabin quilt made from a variety of cottons and silks. There is no padding and the backing is calico bags. 1500 x 1250 mm.
History:
Quilt made in 1910 in Swan Reach SA, by Elizabeth Emma White, for her grandson William Maurice Collins. It is now owned by his daughter Lois Ryan. The quilt has never been used as it was never finished.
Story:
"The quilt belonged to my father. His name was William Maurice Collins. He was born 3rd November 1910 in Mannum, South Australia and died November 1996 in Kalamunda WA. It was made for him by his grandmother, Elizabeth Emma White in 1910 - the year that Dad was born. She made a quilt for each of her grandchildren - Dad had seven brothers and sisters and I'm not sure how many other grandchildren there were. Granny White was born in Australia on 8th May 1853 and died on 27th July 1940. Her parents came from England (they came from a family of lacemakers) but her father was a tailor in Australia. Apparently there were boats that carried fabric (and other supplies) up the Murray River and Granny White may have bought the materials from there to make her quilts - we don't know that. She lived out in the country just out of Swan Reach in South Australia." [Lois Ryan]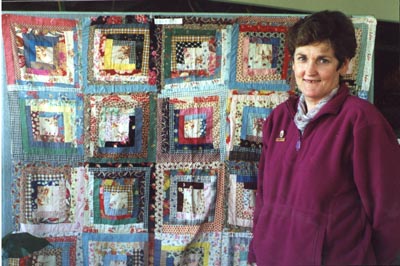 Related Quilts:

Quilt of over 6000 suffolk puffs (also called yo yos) in a mix of cotton and synthetic materials. The top is hand stitched on to a satin backing.
2413 x 1626mm

Quilt in a wide variety of patterned and plain hexagons in cotton with a wide green border. There is no padding and the backing is cotton.
2500 x 2200mm

Cotton quilt, machine sewn and hand quilted. Pattern similar to Double Irish Chain. The background is white and the small squares mainly patterned in pinks, blues, lilacs and greens. The backing is plain white cotton and the padding, which is lumpy, could be some type of cotton.
2057 x 1220mm

Yellow and white cotton Durham quilt with centre panel of patchwork blocks in counterchange design called 'Plate'. There is a wide yellow border and square white corner blocks. It is padded and there is a yellow backing. It is quilted all over following the patchwork pattern in the centre panel. Feather pattern border.
2120 x 1720mm

Randomly patched quilt in many different colours and fabrics. There are appliquéd shapes over many pieces including Suffolk Puffs, hearts, hexagons and other shapes. There is an embroidered inscription "A11 to S11 1829" which is thought to mean AN to SN 1829. There is no padding and the backing is white cotton.
2000 x 2200mm

Quilt based on 70mm block. Cottons and rayon's with some reused materials. Machine pieced, hand quilted. Backing is mid blue cotton brought over to the front and machined to form a binding. Padding is probably cotton.
2510 x 1850mm