Quilt No.1043WAQ - West Australian Quilters' Assn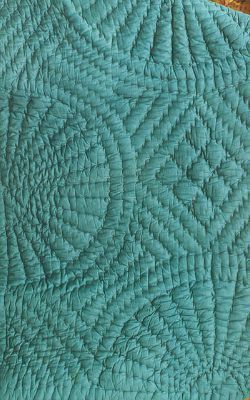 Owner:
West Australian Quilters' Assn
Description:
Hand sewn cotton Greek whole cloth quilt. One side is deep blue and one side is bright yellow. The 32cm border is quilted in straight lines approximately 4cm apart except for a wide zigzag pattern half way inside the border. The centre section has 4 large semi circles and is quilted like the sun's rays towards a central diamond about 45cms tall. The padding is hand scoured wool. 2020 x 1860mm.
History:
The name of the maker is unknown but the quilt was made on the island of Rhodes, Greece, in the mid 1940s. Mrs Katerino Marino purchased the quilt in 1948 and brought it to Australia in 1952. She donated it to the West Australian Quilters' Assoc in 1997.
Story:
"It has been, and still is in 2000, a tradition in Greece that parents should provide a quilt for the marriage of each of their daughters. In Australia this tradition has changed to Greek parents giving a bedroom suite and bed linen to daughters getting married. The quilts were made in varying thicknesses depending on the degree of warmth required. Sometimes the thicker quilts would be put on the floor as mattresses as many people did not have beds or perhaps they would be used as extra bedding for guests. Some of the quilts were quite large and could be used for up to 6 people as occasions arose when whole families would sleep together." [Joy Hill WAQA]
Related Quilts:

Wholecloth pram quilt with a top of pink cotton sateen, and the reverse is a more finely woven, ivory, fabric. All over quilting design as main feature, with stylised hearts, leaves and cross hatching. The padding is cotton batting. 870 x 660 mm.

Hand stitched, cotton, appliquéd, quilt in a flower pattern on a plain background. Colours are shades of green, apricot and browns. This quilt was known as a 'Bride's Quilt'. Padding is thought to be layers of white fabric raised almost like a wadding. The backing is cotton material. 2470 x 2020 mm.

Autograph quilt consisting of 372 x 100mm calico squares with signatures worked in green thread. There is a scalloped border. The backing is green paisley flannelette and the padding is an old twill sheet.
2200 x 1840mm

Domestic Wagga made from 3 bags joined (the bags feel lighter than the jute wheat or flour bags) and covered back and front with floral cotton featuring large roses in red and oranges. The cover is machined.
1750 x 840mm

Wholecloth quilt made from deep cherry red satin with a backing of red cotton. The padding is cotton wadding. It is hand quilted and the pattern is a central motif of a large diamond with diamond fill. Each corner has a pattern of curved lines and the quilt border is created by four parallel lines.
2070 x 2000mm

"A quilt or coverlet of natural cotton sheeting with appliqueed motifs cut from a variety of crimson cotton damask. The quilt is hand sewn and nearly square and has a 12 cm border made from the same crimson damasks. The applique motifs consist of a range of hexagons, rosettes, flowers, hearts and stars that radiate outwards from a large centrally placed star shape. All are the same shade of crimson red which suggests they were dyed in the same dye pot. The fabrics are now quite thin and soft which suggests that the quilt, or the fabric it was made from, was well used." [PHM]
1960 x 1950mm