Quilt No.198BM - Barbara McCabe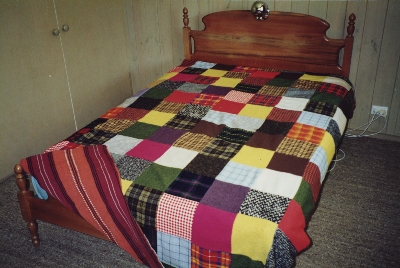 Description:
Patchwork quilt made from squares of woollen fabric scraps from dressmaking. Squares are stitched together in no particular order. Colours are bright, with pink, yellow, green, brown and light blue predominating. Fabric is plain, checks and stripes. No padding or quilting. Backing is a cotton bedspread, striped in pinks and magenta.
2530 x 1640mm
History:
Made by Barbara McCabe while living in Geelong (VIC) in 1969, early 1970s. Owned by Barbara McCabe.
Story:
Barbara and her husband David were school teachers, and moved around Victoria, from Echuca to Research to Geelong/Highton.
Barbara made a number of quilts in this style during the 1960s and early 1970s as bedcoverings for the family. When they ended their life as bed coverings, they were/are used as car boot liners, packing around furniture, etc. This quilt was made for her son, Michael.
Related Quilts:

Crazy patchwork quilt made from silk, cotton and velvet in pastels and rich dark colours with a wide border of dark burgundy silk velvet. Decorative embroidery stitches including straight, herringbone and feather edge each piece. Most pieces have embroidered motifs including crown, flowers, horseshoe and Australian motifs of wattle and emu. Date '1891' worked in cross stitch on one piece. The padding is wool and the backing dark red satin and these are joined by diagonal machine stitching in yellow thread.
1750 x 1100mm

Cot quilt of cotton hexagons. There is a central diamond of hexagons and then a repeat diamond motif radiating to the edge. Each hexagon is 40mm. The backing is sheeting or similar and the padding is dacron type.
1200 x 700mm

Pieced hexagons, English paper method. Large hexagons form the centre with a border of smaller hexagons. The fabrics are all cotton in a wide range of colours and patterns. There is no padding. The backing is cotton, large white floral design on dark blue. The hexagons are hand pieced and the edges machined.
2480 x 1420 mm

Double sided quilt. One side is different shapes including rectangles in various sizes in wools and men's suiting material. It is hand pieced. The pther side is mainly cottons in florals of different patterns joined in strips of varying width and machine and hand pieced. There is a 25mm binding. The padding is an old blanket.

Repeat block in Dresden Plate pattern using various cotton fabrics from the 1920s. Quilted with a flower in the purple/pink centre and squares elsewhere. Border is furnishing fabric. The padding is cotton that is disintegrating and the backing is calico. 1980 x 2100mm

Hexagon quilt made by hand from a wide variety of cotton materials. There is no padding and the backing is calico.
2286 x 915mm