Quilt No.451RCH - Red Cliffs Historical Society
Owner:
Red Cliffs Historical Society
Description:
Pieced construction, repeat block format, American Blue Grass pattern. Hand stitched and quilted with a machined edge. Mauve check stars, 8 points, surrounded by 16 point stars in yellow floral. One star per block plus green squares and red strips. The background is yellow cotton and so is the backing. There is a dacron type padding.
1980 x 1740mm
History:
The quilt was made by Florence Beaton of Sunshine Farm in the 1950s or 1960s. It is now owned by the Red Cliffs Historical Society at Red Cliffs, Victoria. The society also has a fine collection of Florence and Clara's needlework.
Story:
Florence (Flo) Beaton (born McNabb) 1920-1996 was the daughter of Clara and Frank McNabb who selected block 46 at Carwarp in the harsh mallee country of north western Victoria in 1913. They called it "Sunshine Farm". Florence was one of 4 childrten (3 boys). She recalled* that her Mother Clara once won a nail driving competition, was an expert with a shotgun, worked on the farm driving a team of horses, had a wonderful garden and was a fine needlewoman as was her mother Ellen before her. Flo carried on the needlework tradition of her mother and grandmother and was accomplished in many types of needlework including making quilts. Flo did not have any children.
*Ref: "A Woman's Work" By Florence Beaton. The story of a Mallee farmer's wife from 1913. Published by The Sunnyland Press, Red Cliffs 1985.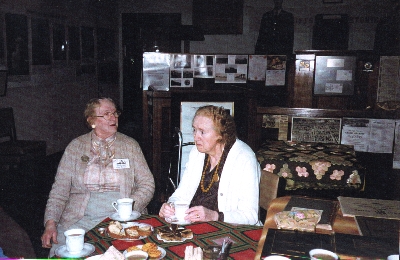 Related Quilts:

Quilt made of 26 x 13 rectangles of woollen men's suiting samples. Each rectangle is about 70 x 130 mm. Wide variety of patterns, mainly stripes, and colous. The padding is part of a worn cream blanket and joined pieces of woollen clothing. The backing is a well worn piece of brushed cotton. Machine made.
11900 x 1870 mm

Patchwork quilt, log cabin pattern. Made of strips of dark and light material arranged to produce strongly contrasting bands running diagonally across the quilt. Colours are mainly pinks and blues in small floral and paisley cotton prints. There is no padding.
1310 x 1140mm

Quilt of scrap hexagons. Hand pieced over papers with some papers still in place. Materials used include seersucker, plisse, chambray and various other textured cottons used in dressmaking. The owner has restored the quilt. The backing is a soft cotton in indigo blue and the padding is flannelettte. "I machine tied the quilt in its restoration using cream cotton at the intersections so that it doesn't impinge on the interesting fabrics and the overall scrap effects." [Marie Pye]
2590 x 2170mm

Cotton quilt made in the USA. The pattern is 'Nine Patch'. The quilt is machine pieced and hand quilted. The backing is cotton material possibly shirting. The padding is cotton.
1702 x 1702mm

Double sided quilt. Side 1 has a central patch of small rectangles and borders of half square triangles. Seamed construction. Side 2 is crazy patch in wools and cottons on to a backing material. There is one round segmented circle in the centre. Machine pieced and quilted.
2050 x 1610mm

Patchwork quilt made from hexagon patches in silks and rayons, in pinks, blues, red, yellow mainly, with pastels. No padding. Bordered and backed with green satin.
1829 x 1372mm