Quilt No.267JH - Julianne Humphris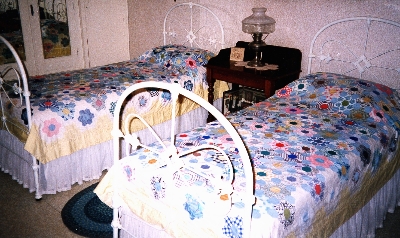 Description:
Patchwork quilt of hand sewn hexagons in a variety of print and plain cotton fabrics from 1950-1960. Colours are mainly pinks, blues, greens and yellow, with some red, and white. Quilt has a wide border of yellow poplin, which also forms the backing. No padding.
2280 x 1520mm
History:
Made by the owner, Mrs Julianne Humphris in South Australia. The quilt was started in 1960-1961 and took 2 to 3 years to finish. One of a pair.
Story:
The quilts have been in constant use since finished.
"I collected dress material scraps for years & quilts have pieces of first frock made for myself when 14 years old. Started handsewing hexagons after buying "Introduction to Patchwork" by Elizabeth McCosh, & "Patchwork Quilts" by Averil Colby followed - books I still have. Still enjoy sewing hexagons but also do machine piecing, applique & machine & hand quilting."
[Julianne Humphris]
Related Quilts:

Quilt top in postage stamp pattern typical of military quilts. 5 x 5 blocks each 280 x 280mm. Colours are predominantly red, black and cream. Thought to have been made using uniform material from the Crimean war
1350 x 1350mm

Double sided frame quilt. All reused materials including corduroys, wools and light weight suitings. Machine made and not quilted There is no padding as already heavy and warm.
1780 x 1530mm

Quilt made from dressmaking materials in a design probably made up by the maker but resembling 'Courthouse Steps'. The outer border of each block is mitred. Originally it was reversible but during restoration the back was brought to the front, doubling the size of the quilt. The padding is old woollen materials. The backing is a new piece of floral material. It is now machine quilted.
1830 x 1220mm

Patchwork quilt of hexagon patches (3.5cm sides approx), handsewn, in cotton fabrics in sprig prints, stripes, checks, florals and plains. Colours are pre-aniline dyes, in lavender, green, red, beige and purple. Centre of quilt is pastel colours with a central patch embroidered in red: 'Elsey Rowbotham her work May 1 1869'. Quilt has a wide border of squares and triangles.Padding is thin cotton. Backing is off white calico. Quilted in parallel lines.
2693 x 2490mm

Quilt top of hexagons in silks and satins, pieced over papers in the English tradition. Some paper templates still in place. One states: 'Semi - Monthly Regular Clipper packets to New Zealand, Port Phillip, Sydney�2nd of each month..Adelaide' suggesting it may have been from a shipping timetable.
1580 x 1830mm

Hand stitched unfinished crazy quilt with patches placed around a centre hexagon pieced in log cabin type strips. Materials are mainly silks and satins and pieces are mounted on grey cotton material. Seams are overstitched in herringbone stitch. 1520 x 760mm