Quilt No.267JH - Julianne Humphris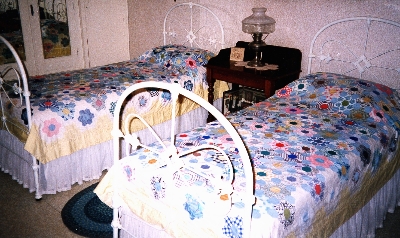 Description:
Patchwork quilt of hand sewn hexagons in a variety of print and plain cotton fabrics from 1950-1960. Colours are mainly pinks, blues, greens and yellow, with some red, and white. Quilt has a wide border of yellow poplin, which also forms the backing. No padding.
2280 x 1520mm
History:
Made by the owner, Mrs Julianne Humphris in South Australia. The quilt was started in 1960-1961 and took 2 to 3 years to finish. One of a pair.
Story:
The quilts have been in constant use since finished.
"I collected dress material scraps for years & quilts have pieces of first frock made for myself when 14 years old. Started handsewing hexagons after buying "Introduction to Patchwork" by Elizabeth McCosh, & "Patchwork Quilts" by Averil Colby followed - books I still have. Still enjoy sewing hexagons but also do machine piecing, applique & machine & hand quilting."
[Julianne Humphris]
Related Quilts:

Double sided quilt. Side 1 has an off centre frame based on a hexagon and including triangles and squares in a concentric pattern. The borders are all small rectangles with a single strip of large rectangles at one end. Side 2 has a central patch of pieced shapes appliqued to the background. The borders are squares and rectangles many in striped shirting cotton. Side 1 has minimal quilting to the interlining but it does not go through to side 2. The padding is a thin sheet.
The circle (sometimes pieced hexagons) is common to other 'Craigmoor' quilts.

1450 x 1230mm

Patchwork quilt made from diamond patches in a variety of cotton materials set in a 'tumbling block' pattern. Patterns include geometrics, stripes, a 'Kate Greenway' print and colours are largely soft pastels, dark browns, with some reds and blues. The quilt has been cut down and a later border added. There is no padding and the backing is cream cotton.
2279 x 2000mm

Quilt made from woollen dressmaking scraps, sewn to an army demob issue blanket, grey with blue stripes. Patches are feather stitched in red broder cotton thread. Quilt is edged with red cotton material zig zagged into place. Colours are pink, blue, brown, black and grey, in plain cloth, weaves and checks.
1462 x 966mm

Pieces of heavy woollen material have been strip pieced and then joined. The joined pieces have then been folded over and restitched along the sides to make a double sided quilt. It is very heavy.
1830 x 1400mm

Double sided frame quilt. All reused materials including corduroys, wools and light weight suitings. Machine made and not quilted There is no padding as already heavy and warm.
1780 x 1530mm

Patchwork quilt made of approx. 730 Suffolk Puffs, using mainly cotton materials in florals and plains. Each puff is 45mm diameter. The quilt centre has a square of 16 pink puffs outlined with a single row of blue puffs. Each corner of the quilt has a square of 9 puffs in a single colour. No padding. Quilt is edged and backed with a red and white tartan cotton.