Quilt No.912UB - Una Braby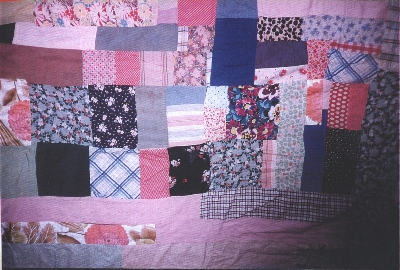 Description:
Cotton quilt made from squares of patterned and plain materials. It has a mauve cotton flounce around the border and a mauve cotton backing. There is no padding.
2700 x 1350mm
History:
The quilt was made by Maud Brown at Emu Flat, Binalong NSW in 1930. Maud was the daughter-in-law of Amelia Brown. It has always been in the Brown family and is owned by Maud's daughter Una Braby. It is not used.
Story:
Maud was the daughter-in-law of Amelia Brown who was born in Devon England, married John Brown in 1836 and came to Australia in 1857. They settled in the Yass district. Una Braby, the present owner, is one of Maud's 3 daughters.
"Most of the prints used in the quilt, are left-overs from frocks made for me and my 2 sisters. I am now 79 [and a half] and the only survivor of this generation of Browns." [Una Braby 17.1.2000]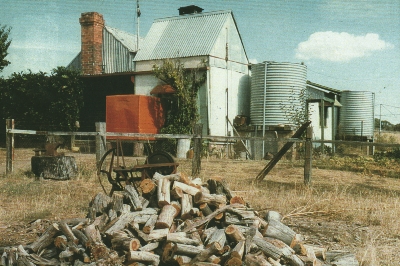 Related Quilts:

Large hexagon rosettes in a variety of plain colours. 6 form a flower and each hexagon has a contrasting colour for the centre. Machined smaller hexagons give a ruffled effect. Colours of flowers include teal, burnt orange, pink, lime and mauve. The material is nylon and the backing is a single piece of pink bubble nylon. The padding is a single piece of calico.
2050 x 1530mm

Patchwork quilt made for a doll's bed or possibly as an infant's quilt. All cotton. The owner calls the pattern a variation of 'Bow Ties'. Hand sewn and quilted. This quilt is new.
534 x 382mm

Quilt of alternate green and fawn squares (100mm) in knitted fabric, originally swatches of sample fabrics. Padding is a piece of old blanket. Backing is fawn flannelette, and the quilt is finished with a flannelette ruffle.
1423 x 1124mm

Machine sewn quilt made from 125mm squares of scraps left over from dressmaking, joined in strips and then the strips joined. There is a border of fawn cotton and the backing is the same material. The padding is an old blanket and the border is padded with sheep's wool.
1400 x 925mm

Hand sewn quilt comprising 263 rosettes of hexagons in chintz. 6 hexagons around a centre one form a rosette. Between these are plain off white hexagons. There is a mark on one corner on cream material, possibly a stamp. The crochet lace border is on three sides only.
2850 x 2720mm

Patchwork quilt, all cotton including cotton filling. "Wedding Ring" pattern in variety of materials in plains and patterned, many pinks and blues.
Hand sewn and hand quilted.
2236 x 1804mm