Quilt No.200BM - Barbara McCabe
Description:
Patchwork quilt made of rectangles of woollen fabrics from dressmaking projects. Pieces have been stitched together in no particular order. Colours are predominantly dark red and light grey, with some green, pink and blue. Fabrics are plain, checks and weaves. No padding or quilring. Backing is yellow curtain fabric.
2200 x 1100mm
History:
Made by Barbara McCabe while living in Geelong (VIC) in 1969 - early 1970s. Owned by Barbara McCabe.
Story:
Barbara and her husband David were school teachers, and moved around Victoria, from Echuca to Research to Geelong/Highton.
Barbara made a number of quilts in this style during the 1960s and early 1970s as bedcoverings for the family. When they ended their life as bed coverings, they were/are used as car boot liners, packing around furniture, etc.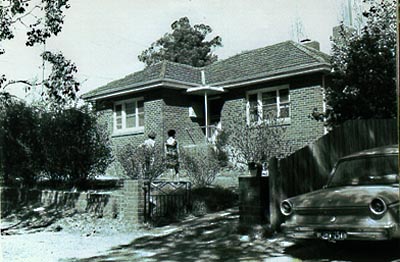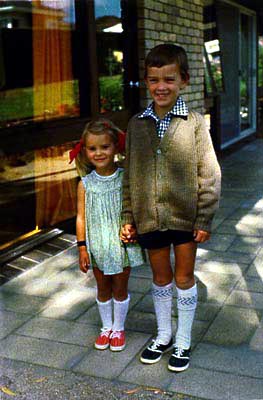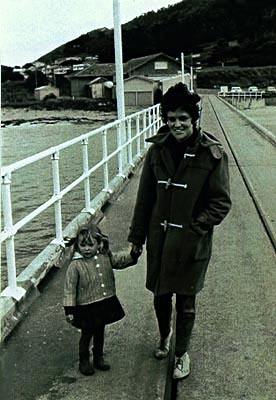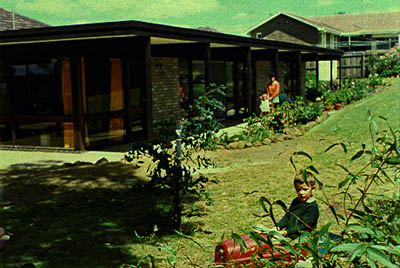 Related Quilts:

Patchwork quilt, all cotton including cotton padding. 'Tree of Life' pattern. All 'Trees' are on white squares and are red or blue. Alternating squares are fawn or white. Simple diagonal quilting. Hand stitched.
1880 x 1728mm

Crazy patchwork quilt in silks and velvets. Centre circle of embroidered flowers and outer border of diamonds in tunbling block pattern. Most pieces have embroidered flowers and all joins are embroidered in fancy stitches. The owner's mother had a pink silk quilted backing and a thick edge cord added to the quilt by Rocke's of Collins street Melbourne c.1960
1620 x 1595mm

Patchwork quilt of multi coloured silks and brocades. Crazy patchwork borders, mainly rectangular fabrics pieced together in diagonal patterns, radiating from a central frame embroidered with flowers. Many pieces are extensively embroidered in a great variety of stitches and motifs; butterflies, sunflowers, cats, daffodils, crown, pawn broker's symbol, 'money to lend', 'good night', the initials of family members and 'mater 1890'. The quilt has a deep border of maroon sateen. There is no padding visible but it is possibly a blanket. The backing is green/gold silk with a self stripe with red cotton damask showing underneath, possibly an earlier backing.
2165 x 2165mm

Quilt with centre area of silk triangles framed with small squares and the rest of the top is larger squares. Wide variety of prints and plain materials. There is no padding. The backing is cotton and "E.M.B." is cross stitched in one corner. "Back is interesting as it's all the same fabric, joined but it appears to have been stitched with a running stitch (cf quilting) before it was attached to the front. It was definitely done after being joined as the stitching design follows through the seams." [Fran Williams]
2500 x 2500mm

Patchwork quilt, all cotton including cotton filling. "8 pointed star" with turkey red surround, white background. Hand stitched and hand quilted.
2109 X 1727mm

The top is strips of mainly wools in blue, maroon and purple. The backing is imitation fur in brown and grey. They is no quilting. The padding appears to be a double sided pieced quilt from men's suitings or tailors' samples.
1500 x 1130mm