Quilt No.931ESA - The Embroiderers' Guild of S.A.Inc Museum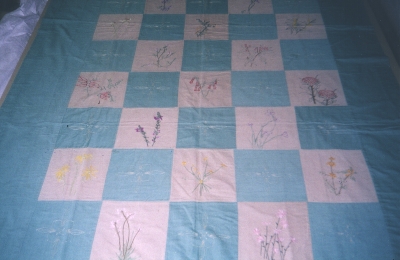 Owner:
The Embroiderers' Guild of S.A.Inc Museum
Description:
This Adelaide Chronicle wildflower quilt has alternating squares of green and fawn headcloth embroidered with Australian wildflowers on the fawn squares and stylised floral motifs on the green squares. It is bordered and backed with the same green material. It is padded.
2350 x 1530mm
History:
This Adelaide Chronicle wildflower quilt was made by Miss Elsie Blake (1885-1967) of Rocky Farm, Bull's Creek, SA c.1933 from patterns published in the Adeliade Chronicle at that time. It was later owned by Margaret Rolfe, Canberra and is now part of the collection of the Embroiderers' Guild of SA Inc. Museum.
Related Quilts:

Crazy patchwork quilt with small patches in velvet, silk, brocade and cottons most with hand embroidery over the seams. There are many motifs such as flowers, butterflies, birds also dates, initials and names of local properties. It is padded with a thin soft material and the replacement backing (old) is satin. There is a wide rose coloured frill on all sides.
1680 x 1380mm

Reversible cot quilt, hand pieced, in the log cabin pattern; the blocks measure 150mm square. The patches have been cut from plain and patterned dress, pyjama and men's shirt fabrics. Strong diagonals were created in the overall design through using light and dark colours, often a strong red, to divide the log cabin blocks in half diagonally. The back is made from rectangles of striped men's shirt fabrics in pastel blues, pinks and browns with a large 'flowe' in each corner, each pieced from six hexagon patches around a central seventh hexagon. There is no padding.
[PHM] 1720 x 1150mm

Grandmother's Flower Garden, also known as French Bouquet. The quilt comprises 181 flowers. No padding is used. Each flower has seven hexagonal patches, cut from a metal template pattern. Floral and plain silk materials are used and mounted on pale blue moire taffeta.
3050 x 2031mm

Log Cabin quilt made from a variety of cottons and silks. There is no padding and the backing is calico bags. 1500 x 1250 mm.

Patchwork quilt of hexagons, handsewn, in print and plain cottons and rayon. Central star group has diamond shaped groups of patches, with smaller flower shapes, an inner border of a star shape in yellow hexagons, and an outer border of hexagons in vertical bands. Colours are mainly blues, reds, greens and yellow, the 'paths' and border are a pink print. The backing is herringbone stitched to the border or sashing, which has mitred corners.
2400 x 2340mm

Pieced repeat block, hand pieced over papers in a diamond pattern. Blue patterned border. There is no padding and the quilt has been recently backed with calico. The 2 layers are tied together. 2240 x 1830 mm.