Quilt No.931ESA - The Embroiderers' Guild of S.A.Inc Museum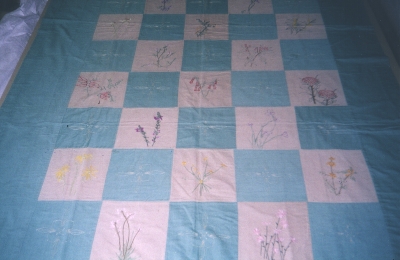 Owner:
The Embroiderers' Guild of S.A.Inc Museum
Description:
This Adelaide Chronicle wildflower quilt has alternating squares of green and fawn headcloth embroidered with Australian wildflowers on the fawn squares and stylised floral motifs on the green squares. It is bordered and backed with the same green material. It is padded.
2350 x 1530mm
History:
This Adelaide Chronicle wildflower quilt was made by Miss Elsie Blake (1885-1967) of Rocky Farm, Bull's Creek, SA c.1933 from patterns published in the Adeliade Chronicle at that time. It was later owned by Margaret Rolfe, Canberra and is now part of the collection of the Embroiderers' Guild of SA Inc. Museum.
Related Quilts:

Machine made cotton quilt with 100mm cotton squares placed diagonally with peaks running around the edge. The colours are mainly autiumn tones and the patterns include checks, tartans, florals, geometric and plains. Materials were scraps left over from sewing projects such as children's clothes. There is a matching valance.

Patchwork quilt has pieced blocks in the 'Ohio star' pattern in red print and white cotton, alternating with plain white blocks. Quilt has a 9cm frill in red and grey geometric print cotton, machine stitched around the edge. Quilt appears to have some hand quilting. No padding. Backing is white cotton.
2210 x 2060mm

Square patchwork quilt made from rectangles of woollen tailors' samples, each patch outlined with machine fancy stitch using red thread. Machine sewn. The backing is a green and white check fabric. No filling.

Handsewn cotton hexagons in a wide variety of patterns. Centre oval of hexagons with 2 outer rings. There is no padding and the backing is white cotton.
2490 x 2200mm

Rectangular cot quilt of green floral cretonne with pleated frill. Machine made. The backing is the same material. It is tied not quilted. The padding is old woollen jumpers.
1050 x 610mm

Patchwork quilt made from squares and rectangles of pink, blue and white fabric set with a frame of pink and white print around a centre rectangle made of 4 pink triangles. Four corner squares of blue and white stripes, Many squares are pieced from smaller scraps. The Material is a crepe type, possibly used for underwear. Handsewn and machined. Backing is made from cotton scraps, possibly lawn or similar. Padding is flanellete or similar. Edges are bound in a striped material. Quilt shows signs of wear.
620mm x 520mm