Quilt No.306NTA - National Trust of Australia (SA)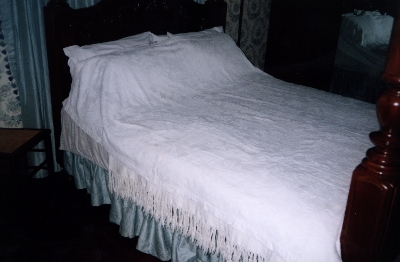 Owner:
National Trust of Australia (SA)
Description:
Quilt made of white cotton net, embroidered or 'voided', with an all-over pattern of parrots perched on branches and flying around a flowering tree. There is a tufted effect on the edges of figures. The top has a centre panel with 2 side panels attached to match the pattern. Quilt is lined with white cotton, and edged with a white cotton fringe. There are 2 matching pillowshams. Handsewn.
11920 x 1830mm
History:
Maker unknown, believed made c.1900. Owned by the National Trust of Australia (SA), and kept at Collingrove Homestead, Angaston (SA).
Related Quilts:

Wholecloth pram quilt with a top of pink cotton sateen, and the reverse is a more finely woven, ivory, fabric. All over quilting design as main feature, with stylised hearts, leaves and cross hatching. The padding is cotton batting. 870 x 660 mm.

Hand stitched, cotton, appliquéd, quilt in a flower pattern on a plain background. Colours are shades of green, apricot and browns. This quilt was known as a 'Bride's Quilt'. Padding is thought to be layers of white fabric raised almost like a wadding. The backing is cotton material. 2470 x 2020 mm.

Utilitarian quilt. Padding consists of recycled hand knitted jumper pieces (mainly 3 ply crepe and 8 ply) tacked to a layer of cotton material with strong buttonhole twist thread. The top is a piece of cotton fabric. Machine quilted in rows approximately 70mm apart.
1827 x 1423mm

Wholecloth quilt of golden brown cotton satin, the reverse side of pink cotton satin. Central quilting pattern of interlaced curves, within 3 rows of parallel stitching, then a border pattern of an interlaced knot design, the edge finished with 2 rows of parallel quilting. Filling of cotton. 2010 x 1920 mm.
2010 x 1920mm

4 Pieces of a patchwork quilt which was formerly a whole quilt. It is pieced in cottons in blues reds and browns in many prints. There are whole circles and pieced circles against a plain cream calico background. It is wool lined and is quilted. There are the initials 'A.B.' and '1828' on a central piece. The 4 pieces are various sizes.

Wholecloth quilt with both sides of floral cotton. The padding is thought to be hessian bags.
2060 x 1300mm