Quilt No.587MW - Margaret Wilson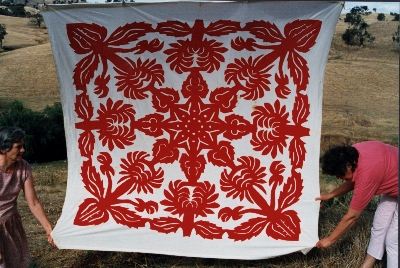 Description:
Hand stitched appliqued quilt or banner. Different hand stitching indicates applique was probably done by several people. There is no padding. The backing is calico.
2230 x 2140mm
History:
The maker of the quilt is unknown. It is thought to have been a presentation gift to the present owner's aunt and uncle when they left Tahiti c.1930. It is not used now.
Related Quilts:

Wholecloth pram quilt with a top of pink cotton sateen, and the reverse is a more finely woven, ivory, fabric. All over quilting design as main feature, with stylised hearts, leaves and cross hatching. The padding is cotton batting. 870 x 660 mm.

Hand stitched, cotton, appliquéd, quilt in a flower pattern on a plain background. Colours are shades of green, apricot and browns. This quilt was known as a 'Bride's Quilt'. Padding is thought to be layers of white fabric raised almost like a wadding. The backing is cotton material. 2470 x 2020 mm.

This 'Quilt' is made from an army great coat from the second world war. The seams have been unpicked and pieced together by machine zig-zagging the flat edges (with Singer treadle sewing machine). The pocket slits are turned back and seamed rather than being pared off. The outside edges are turned over and blanket stitched in red. It does not have a backing.
1620 x 1180mm

One side of this wholcloth quilt is a single piece of cretonne or similar with a pattern of autumn leaves. The other side is patched pieces of curtaining. The padding is old clothing, mainly knits, tacked to random pieces of curtain material. The quilt is tacked together to hold all the padding in and machine stitched to the backing.
1850 x 1100mm

Whole cloth traditional Durham quilt in sateen, pink one side and ivory the other. Elaborately hand quilted. It is padded but the type of padding is unknown. 2030 x 2030mm.

Durham quilt. Hand quilted with Durham Feather Pink on one side and cream on the other. Cotton material with a slightly sheen cotton used for the quilting. Cotton wool padding.
2440 x 2150mm