Quilt No.358AH - Ann Hockey
Description:
Patchwork quilt made of small squares pieced from four triangles. Each square is 90mm and is joined to the others by a herringbone lacing in yellow rayon crochet thread, so making an open mesh between each square. The quilt is edged with thick yellow rayon corded braid. Each square is backed with gold coloured cotton. No padding.
1730 x 1430mm
History:
Made in the late 1930s by Sarah Hockey of Wendellama (NSW). Owned by Sarah, then by her daughter in law Lilian Hockey, now owned by Ann Hockey, Lilian's daughter in law.
Story:
"Sarah Hockey learnt to crochet so she could complete the quilt. Daughter in law Lil Hockey showed her how to crochet."
[[Ann Hockey 1.4.97]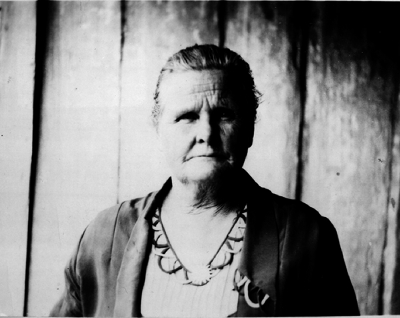 Related Quilts:

Double sided patchwork quilt. Machined squares and rectangles joined in strips and then the strips joined. Wide variety of materials, mainly woollen from hand or machine knitted jumpers, many patched. All materials came from worn garments from family and friends of the maker. No padding.
1860 x 1410mm

Patchwork quilt made from diamond patches in the 'Cotton Box' pattern, in a wide variety of cotton fabrics, including plains, checks, stripes and florals. The patches have blotting paper templates. The quilt is edged with diamond shapes in a red floral cotton. The backing is of the same red floral pattern, featuring yellow, turquoise and white flowers and leaves. Hand sewn.
2135 x 2033mm

Patchwork quilt made in the 'Trip Around the World' pattern, from cottons and some fine dress linen, in bright and pastel solids. Each colour is placed in a diamond shape on the quilt. Patches are 10cm square, quilt has 620 squares. The linen was mainly used to work the cross stitch. Quilt has a 2 inch border in black. Backing is sheeting. Each square is embroidered, with many different stitches, in geometric, floral, animal, insect and abstract designs, in different colours.
2760 x 2350mm

Small square piece of crazy patchwork in silks and taffetas. Many of the seams are oversewn with decorative embroidery stitches. There is a calico backing.
550 x 550mm

Rectangular patchwork crazy quilt pieced in squares (3 across by 4 down), in silks and wool, with red sashing between blocks and red border, quilted. Colours are dark, with red and light blue. Embroidery includes double feather, rope, herringbone, satin, cross, sword edge, buttonhole and coral stitches, and French knots. Embroidered flowers include lily of the valley, rose, daisy, and sunflower, also butterflies. Backing is pieced in the frame style, with a large centre red square, within 10 frames or borders. Embroidered "In Most Loving Memory of My Darling 1883", "V.H.B." Hand sewn.
1900 x 1500mm

A hand sewn quilt of more than 6,536 hexagon pieces in cottons, silks and polyester mix. There is a centre circular pattern of hexagons within a larger hexagon and small hexagons form larger hexagons in a random pattern on the quilt top. There is no padding and the backing is a plain fawn sheet with a floral edging in hexagons. 2880 x 2550 mm.