Quilt No.857AG - Annette Gero
Description:
This domestic Wagga is two layers of woollen army blankets with the top layer in rectangles joined in rows. The backing is hessian bags that originally contained meat meal.
11650 x 1130mm
History:
The maker was the wife of a butcher in Barraba NSW c.1914. It was made early in their married life. It is now in the collection of Annette Gero.
Story:
"Waggas like this are typical of the bed coverings made during the 1st World War or during the Depression��..Note the backing fabric which consists of hessian bags in which sausage meal was purchased. The bags are printed with the label: 'RYBIX' SAUSAGEMEAL SOLE DISTRIBUTORS HARRY LESNIE PTY LIMITED. 47-49 MURRAY ST, PYRMONT. 100LB NETT WEIGHT WHEN PACKED." [Annette Gero]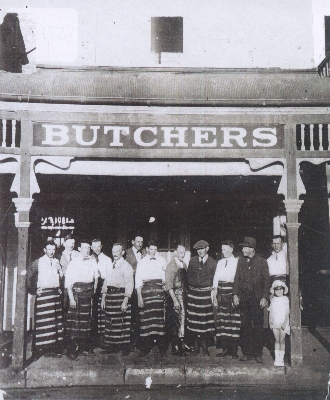 Related Quilts:

Quilt made of 26 x 13 rectangles of woollen men's suiting samples. Each rectangle is about 70 x 130 mm. Wide variety of patterns, mainly stripes, and colous. The padding is part of a worn cream blanket and joined pieces of woollen clothing. The backing is a well worn piece of brushed cotton. Machine made.
11900 x 1870 mm

Crazy patchwork quilt made from silk, brocade and velvet pieces, the seams covered with feather stitching in yellow silk. Fabrics are plain, and patterned with tartans, woven spots, stripes and floral brocade. Colours are rich, mainly red, pink, blue, green and cream. Quilt has a patterned velvet or velour border with urns and flowers in pale olive green and black, edged with a fringe in these colours.
1090 x 1040mm

Patchwork cradle quilt of pieced repeat blocks. All cotton including cotton filling. Pattern is in faded greens and pinks,"4 pointed star" in circles. There are 20 blocks.
991 x 788mm

Old jute wool pack opened out and joined together selvedge to selvedge. Ends bound with recycled curtain material.
1550 x 1321mm

Quilt made of tailors' swatches, machine constructed around a central frame that is mainly mid brown pieces. This is surrounded by rectangles of mainly charcoal greys and the outer border is navy blues. The backing is a heavy cotton with random green and cream and grey stripes.
1651 x 1220mm

Patchwork quilt made from brightly coloured printed cotton fabrics in hexagon patches hand sewn together in rosettes, and stitched by machine onto a border of bright teal blue fabric. Fabric scraps for the patchwork were donated from friends. No padding. Backing is polished cotton curtain lining.
2312 x 1969mm