Quilt No.601PWH - The Pioneer Women's Hut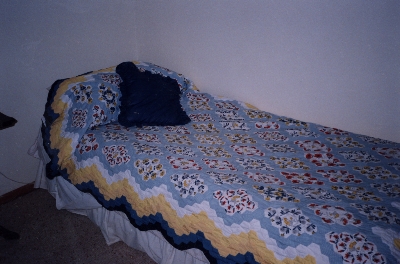 Description:
Single bed quilt made up entirely of hexagons in 'Granny's Flower Garden' pattern. The rosettes are made up of 8 hexagons and a central one. Native flower prints, including wattle, on a white background. Plain hexagons in white, yellow and blue form a scalloped border. Hexagons are hand stitched and the 2 layers are quilted in running stitch. The backing is a pieced sheet.
2400 x 1500mm
History:
The quilt was purchased at an Op shop in Nurioopta by Angela Nash and donated to the Pioneer Womens' Hut in 1995. It is occasionally on display at the musuem.
Related Quilts:

Quilt has a centre panel of white velvet roses and green leaves with embroidered spider webs, on red velvet. Two side panels are in crazy patchwork in plain and patterned silks and velvets. All patches are edged with feather, herringbone or blanket stitch. Many patches are embroidered, including 'Minnie', 'Good Luck', birds, flowers, anchor, boat, fish, shell, spider web, crown,, 2 crossed flags, tennis racquets, Australian motifs including wattle. The centre panel has a row of ruched olive green ribbon each side and the whole quilt has a border of dark blue velvet. The padding is cotton wadding and the backing is cream cotton printed with red and pink chrysanthemums and green leaves.
2113 x 1995mm

Quilt made from woollen dressmaking scraps, sewn to an army demob issue blanket, grey with blue stripes. Patches are feather stitched in red broder cotton thread. Quilt is edged with red cotton material zig zagged into place. Colours are pink, blue, brown, black and grey, in plain cloth, weaves and checks.
1462 x 966mm

Patchwork quilt, all cotton including cotton padding filler. The design is 'Dresden Plate' or 'Friendship Circle'. Background is white with multicoloured and patterned triangular pieces forming circles. Hand stitched and heavily quilted.
2235 x 1778mm

Patchwork quilt with alternate squares of green and fawn cotton headcloth. Various Australian wild flowers are embroidered in coloured threads in the green squares. In the fawn squares there is a stylised flower and leaf pattern outlined in embroidery. The border, front and back is green headcloth. The backing is printed cotton with a floral design. There is some padding.
1610 x 1610mm

Cotton quilt with rosettes of hexagons. There is a centre hexagon with a surround of 6 hexagons in a contrasting pattern and then an outer row of 12 hexagons in a different pattern. Between each rosette is a single row of hexagons in a print common to the whole quilt. The materials are typical of the 60s period. There is a deep aqua border. It is machine quilted. The backing is cotton.
2515 x 1829mm

"A medallion or framed quilt in design. There is a central field of small patchwork diamonds, and from this radiates plain stripes of fabric bordering areas of patchwork panels. The edge of the quilt carries bands of red cotton, which are slightly larger at the top and bottom edges, and here the band is additionally decorated with appliqué diamonds. The fabric of the patchwork is cotton in fine plain weave of pale coloured florals and small geometric designs. The framing and border stripes are of bright red twill weave cotton. The small diamonds of the central field are hand sewn, with more use of machine stitching around the outer edge of the quilt.
The quilt is not padded. The patchwork is fully lined with a printed plain weave cotton fabric with a design commemorating Queen Victoria's Jubilee. The design is based on a repeated grid of circles. In the centre of each circle is a cameo of Queen Victoria, surrounded by images of the national flowers of England, Scotland and Ireland: the rose, the thistle and the shamrock. The edge of the front face of the quilt is trimmed with a red and white cotton braid." [NGA] 2380 x 2220mm