Quilt No.601PWH - The Pioneer Women's Hut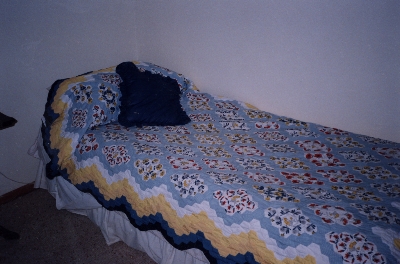 Description:
Single bed quilt made up entirely of hexagons in 'Granny's Flower Garden' pattern. The rosettes are made up of 8 hexagons and a central one. Native flower prints, including wattle, on a white background. Plain hexagons in white, yellow and blue form a scalloped border. Hexagons are hand stitched and the 2 layers are quilted in running stitch. The backing is a pieced sheet.
2400 x 1500mm
History:
The quilt was purchased at an Op shop in Nurioopta by Angela Nash and donated to the Pioneer Womens' Hut in 1995. It is occasionally on display at the musuem.
Related Quilts:

Double bed patchwork coverlet of pieced blocks in a pinwheel or dresden plate pattern of prints on a cream ground, each block with a 1 3/4" border or sash. Each pinwheel has 10 pieces, and the quilt is constructed 8 blocks by 6. Cotton fabrics are in florals, checks and stripes, in blues, greens browns, pinks, purple. The quilt was in poor repair and has been reduced in size. Conservation work has been done by the State Conservation Centre.
Backing or filling unknown.

Quilt top with English piecing in a star in polygon pattern. English and French cotton fabrics in a wide variety of patterns and plains constructed over papers with the tacking still in tact. Papers are mainly part envelopes some with stamps and post dated 1898. 2200 x 1800mm

Patchwork quilt made of rectangles of woollen fabrics from dressmaking projects. Pieces have been stitched together in no particular order. Colours are predominantly dark red and light grey, with some green, pink and blue. Fabrics are plain, checks and weaves. No padding or quilring. Backing is yellow curtain fabric.
2200 x 1100mm

Hand stitched quilt of suiting materials. Centre rectangle also suiting materials but arranged with a smaller scale, is edged with a cord of red fabric covering string. The outer red border has been renewed by the owner and closely matches the original. The backing is ticking. There is no padding.
2390 x 2110mm

The quilt is a repeat block in the Ohio Star pattern in turkey red and cream. Quilted in squares in the cream block and diagonal lines in the star block. The fabric border is disintegrating. The backing is cream calico and the padding is cotton, badly degraded. 1940 x 1760mm.

Cotton Hexagon quilt with a wide variety of patterned and plain materials. Blue binding and a cotton backing. The padding is thought to be cotton wool.
1525 x 1220mm