Quilt No.432AS - Amanda Smith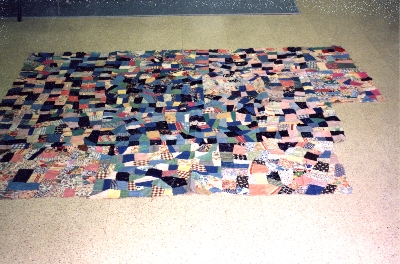 Description:
Unfinished crazy parchwork quilt using a wide variety of mainly cotton scraps in patterns and plains. Machine sewn on to calico base.
1956 x 1677mm
History:
This unfinished quilt was made by Mrs. Buckley, the great gandmother of the present owner, in South Australia early this century. It was then owned by her daughter Gwendalyn Zelma Blanche Hynes (grandmother of Amanda Smith) until 1989 when Amanda claimed it just 10 days before Gwendalyn's death. It is not used now.
Story:
"My grandmother would tell me about her mother (my great grandmother) making quilts on her treadle machine. She had 14 children (my GGM) and used sewing as an escape and necessity of life.
[Amanda Smith 15.3.98]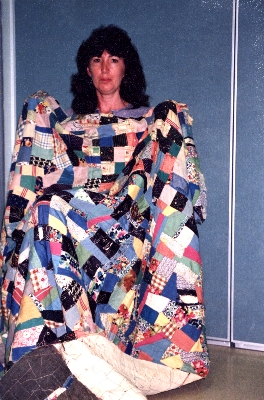 Related Quilts:

" This well worn quilt is of pieced diamonds set into squares (221 make up the quilt). Thick woollen fabric has been used for the pieces. These are with plain dyed fabrics or tartans and checks. All work on the quilt is hand sewn. The quilt was lined with a fine blue cotton." [NGA] The quilt is not padded. 1835 x 1400mm

American quilt in 'Dresden Plate' pattern. Hand stitched, Wide variety of cotton materials used in plain and patterned materials. The backing is cream cotton. It is hand quilted. This quilt was made from an American McCalls pattern consisting of transfers for the pieces and for the quilting design.
2400 x 1700mm

Double sided square quilt mainly in cottons. Side 1 has been made in 4 squares each consisting of different sized strips and rectangles. With side 2 there appears to have been 2 stages as if the quilt was extended perhaps to match side 1. It is also squares, rectangles and strips. Sparsley machine quilted. There is no binding but side 2 has been turned over to side 1 and stitched by machine.
1525 x 1525mm

Cotton patchwork quilt in double wedding ring pattern in pastel prints. Quilted in a design of geometric flowers. Padding is probably cotton wadding, backing is cream calico. 2270 x 1970 mm.

Patchwork quilt made from brightly coloured printed cotton fabrics in hexagon patches hand sewn together in rosettes, and stitched by machine onto a border of bright teal blue fabric. Fabric scraps for the patchwork were donated from friends. No padding. Backing is polished cotton curtain lining.
2312 x 1969mm

Cotton scrap quilt in a pattern known as 'Grandmothers Fan'. It is hand quilted. The padding is hand carded cotton and the backing is muslin.
2235 x 1880mm